This brand I watched for quite a long time. I really love lots of their designs, they are pretty unique and stylish, at least for my taste. This bodysuit of nude mesh with a single decorative panel imitating a store label with a barcode caught my eye instantly. There is some dark irony in this look of a "naked" body labeled as merchandise. And being a sucker for this kind of twists, I got the piece as soon as TTSWTRS announced a flash sale this summer.
I wasn't disappointed with my purchase when I got it. The bodysuit is edgy and bold, with a bit of a daring vibe. And it catches not my eye only – it draws a lot of attention, sometimes people get confused, try to look closer or ask questions so keep it in mind if you find it uncomfortable to get such a specific kind of attention.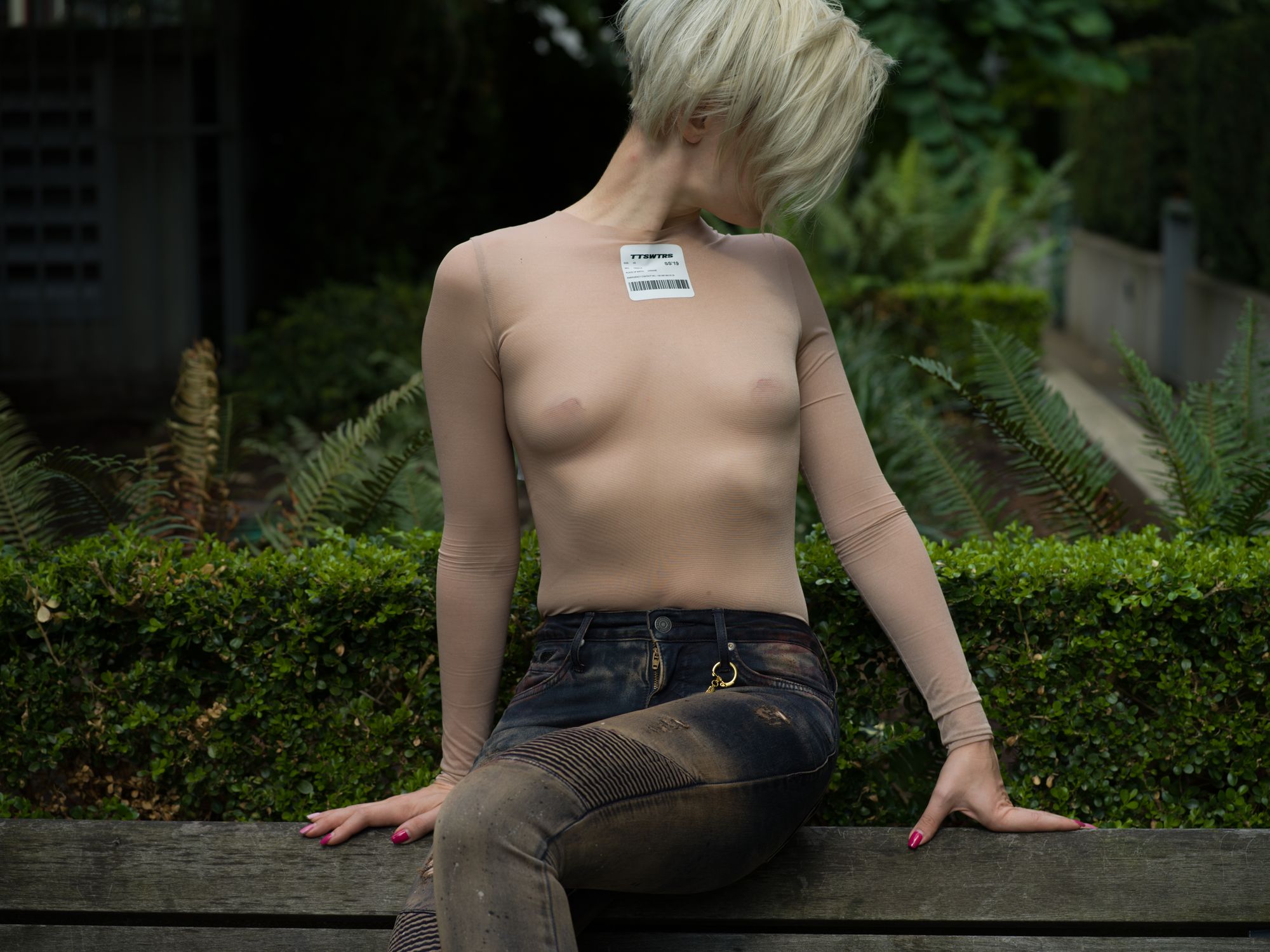 When I got my delivery I got surprised to find another decorative panel on the back. I'm not sure how I overlooked it on the website, probably I got too obsessed with the front look to pay attention to other images. Anyway, there was another panel which I didn't exactly like – it was a reference information about the brand, its ideology, history, and a list of stockists, and this was a bit too much of branding for me, I felt a bit like a piece of human advertising board with this on my back. The style itself didn't win my heart either – it looks like you see the text double which I find annoying (well, I thought even that it could be a printing defect).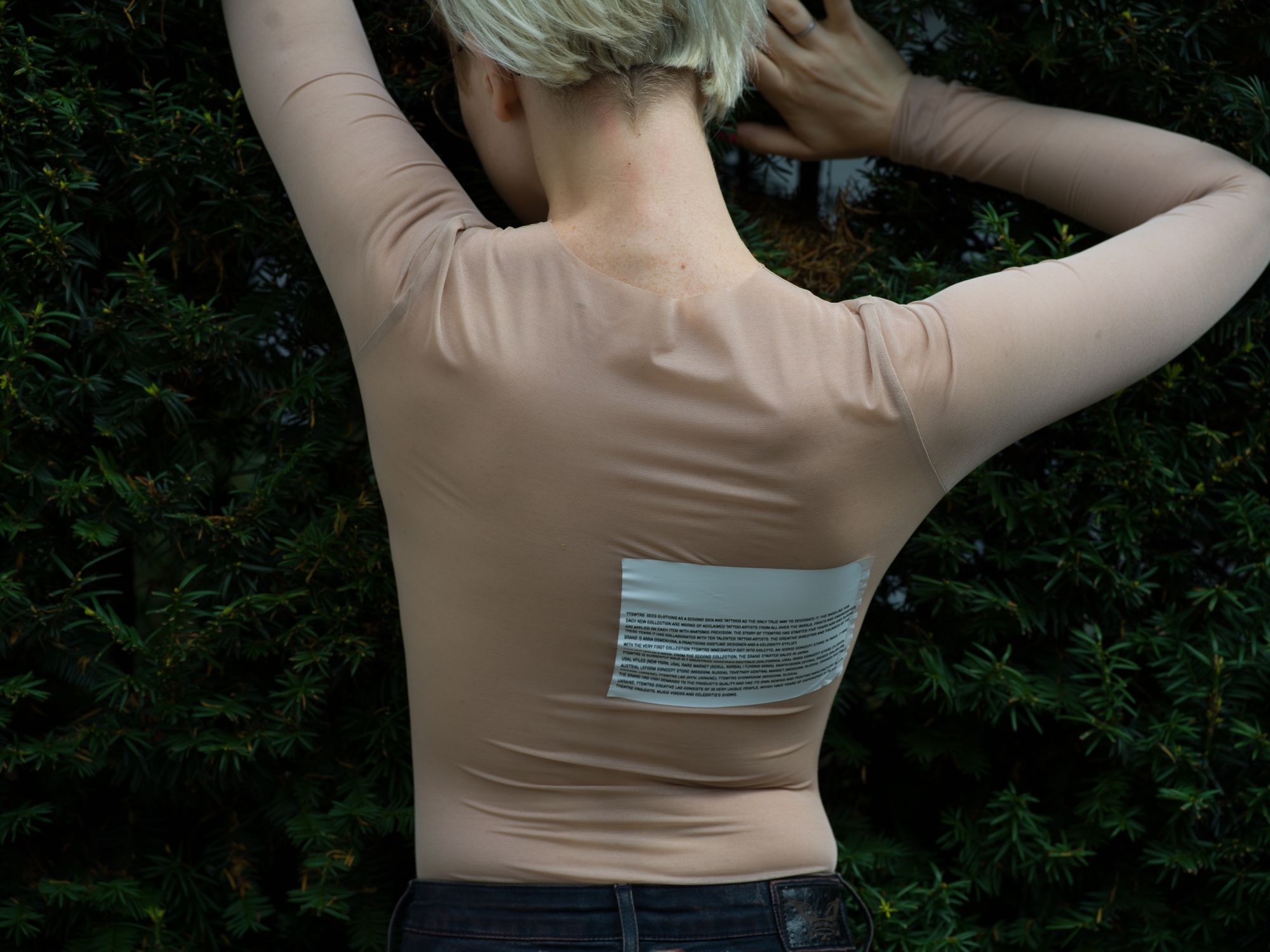 I had no enough time to get upset about this unexpected second panel though. The sun was out in my backyard, and I put the bodysuit on to do a quick photo shoot. After a couple hours of wearing it I discovered the back panel starting to flake off the mesh. I took the bodysuit off and tried to figure out what's happening – I pulled the edge very lightly, and it completely peeled off by itself leaving no traces on the fabric.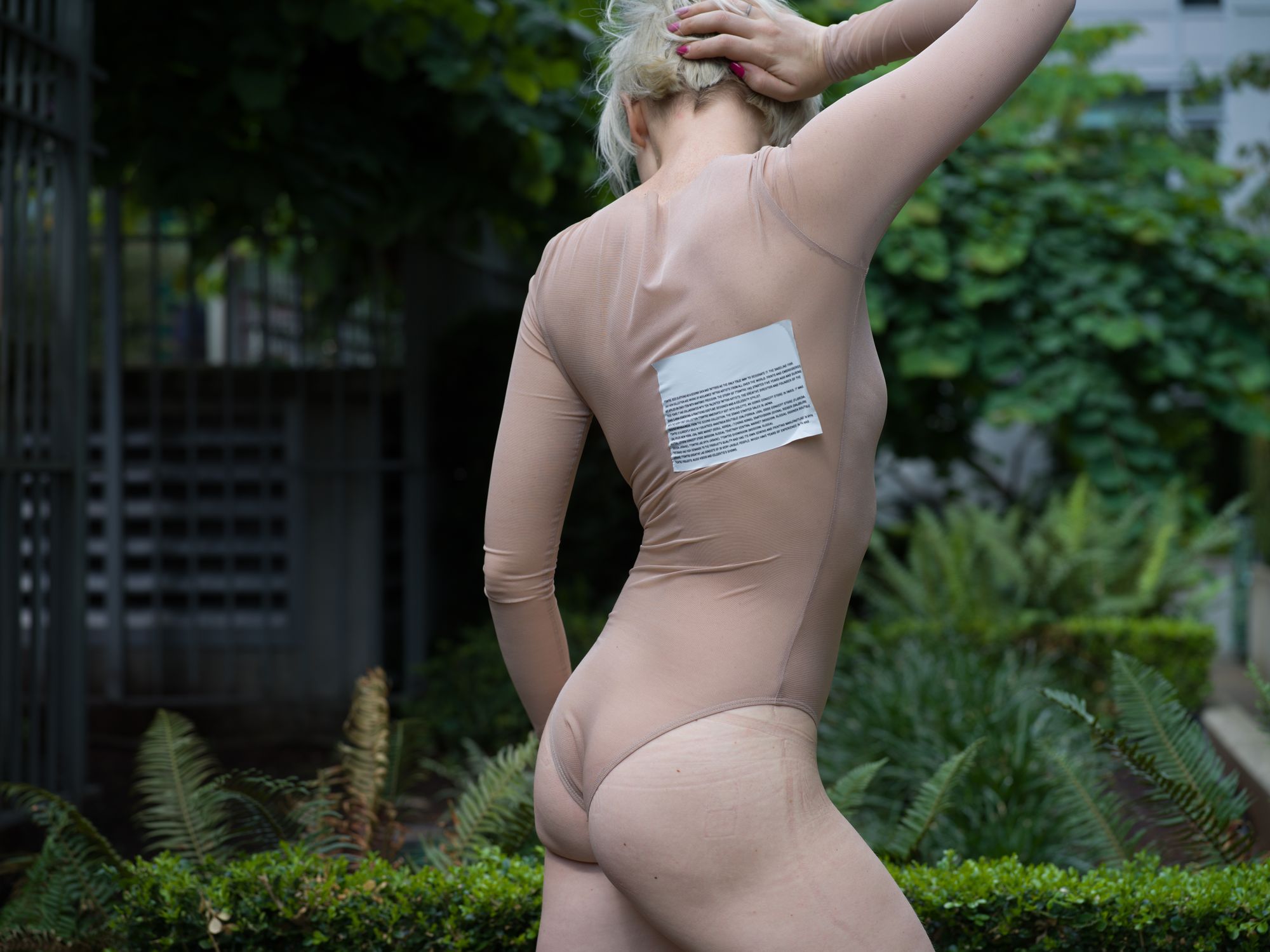 Well, at first I was even delighted to get rid of the part which I didn't like. But then it struck me that the front panel may just do the same leaving just a simple see-through bodysuit with no stylish decoration. I reached out to the brand team for an advice, and right there a story of 2 months of bad communication started, I'll give all the boring details further.
Overall impression
It's a stylish bodysuit of quite a good quality in overall if it weren't for the defective decorative panel – even though I personally didn't like this part to start with, it's obviously not a good sign when pieces fall off the garment during the first time when you wear it. It could be just a one-time case of a manufacturing defect obviously but unfortunately the support team handled it in such a manner that I'm left deeply disappointed with the whole experience.
Look, Touch, and Comfort speak for themselves.
Quality – quality of fabric, fit and seams.
Support – how quick and helpful the support team was.
Experience – the overall experience of communicating with the brand (how user-friendly the website is, how easy it was to order, how quick and seamless shipping was, if applicable – how painless the return procedures were.)
Devil in details: purchase review.
The bodysuit is made of a nude see-through mesh with decorative panels looking somewhat like merchandise stickers in the store, made of dense thin material reminiscent of rubber to the touch. Mesh has a bit of a synthetic gloss while I'd prefer it to be matte but it's not too drastic so it's just me being picky.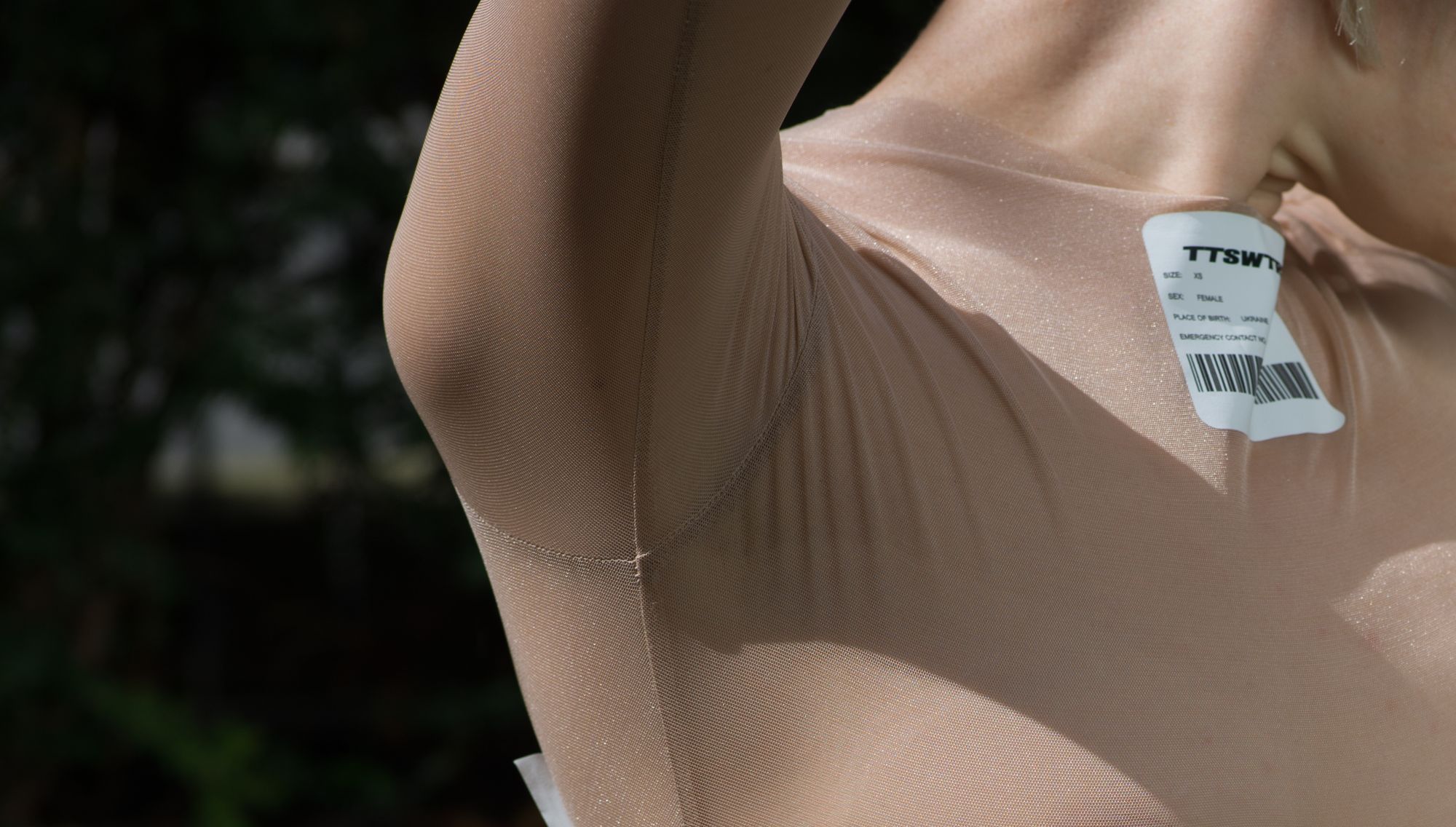 Seams are pretty neat which is especially important for a see-through garment. The neckline and edges of sleeves aren't finished, it's just a clean cut which is probably supposed to ensure a better blending with skin. I personally would prefer the edges to have finishing seams as due to the mesh structure the edge line is a bit uneven, but again, that's me looking for tiny details, the edges are as neat as mesh cuts can be.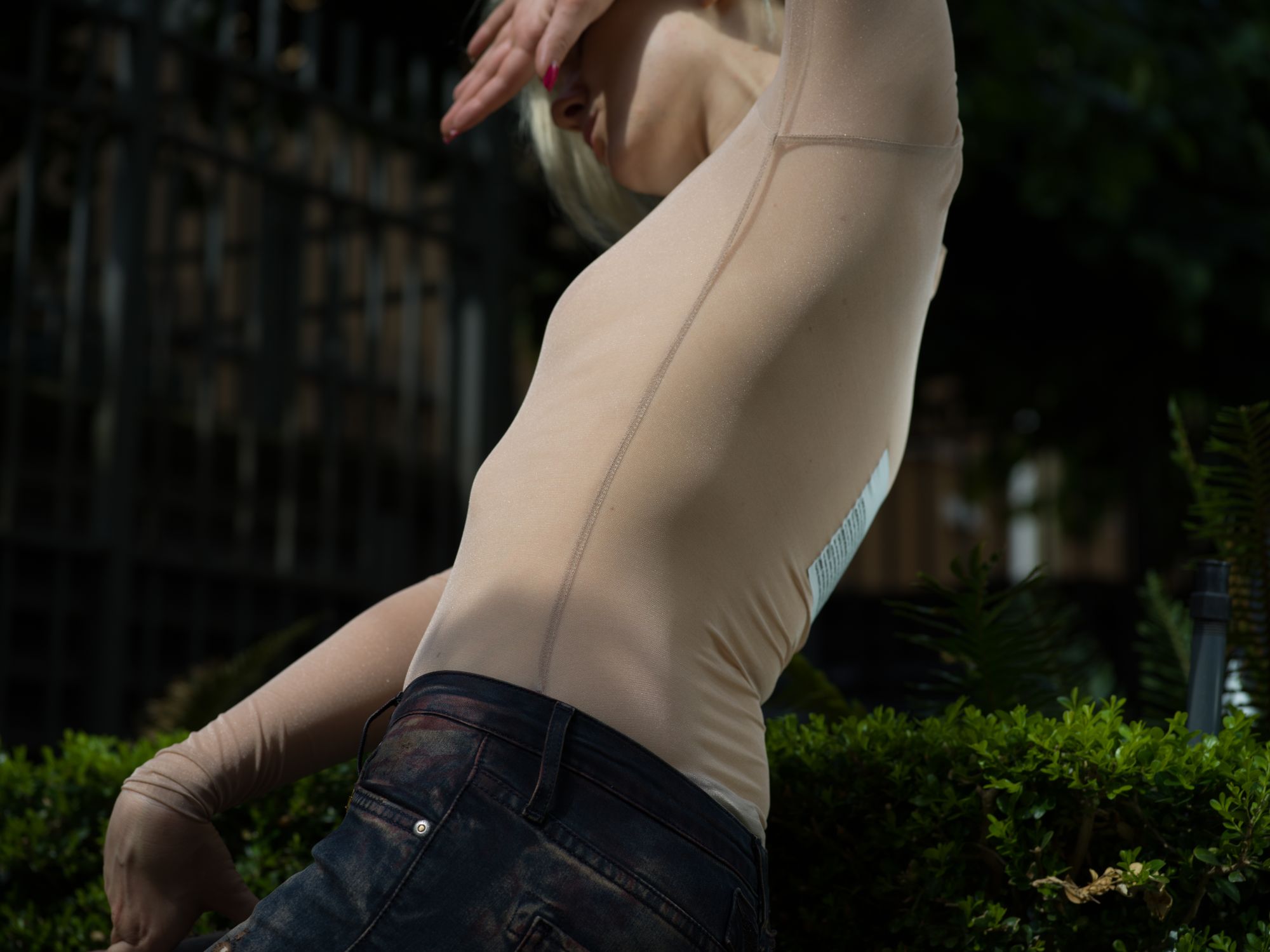 The bodysuit has a cotton gusset and snap fasteners in the middle of it which is quite unusual (the front and back parts are both layered with pieces of a cotton fabric with press studs on their edges, so that when they're fastened they form one whole gusset). So far I didn't feel any inconvenience due to such a design so I guess it works just fine.
Order notes: fitting, customer support, shipping
It all started quite good. I found out about the flash sale in the brand's Instagram stories (they announce different special offers there, now more often than before). The support team answered quickly in Instagram direct messages and was pretty helpful. I chose the bodysuit and a set of matching top and brief (which I'll review separately later). My measurements are between the brand's sizes which is standard for me, I ordered the bodysuit in XS, and it fits me perfectly.
My bust measurement is 80 cm which translates to XXS size, waist of 67 cm translates to S with only 1 cm over XS upper limit, and hip of 88 cm at the moment of purchase was right on the border between XXS and XS.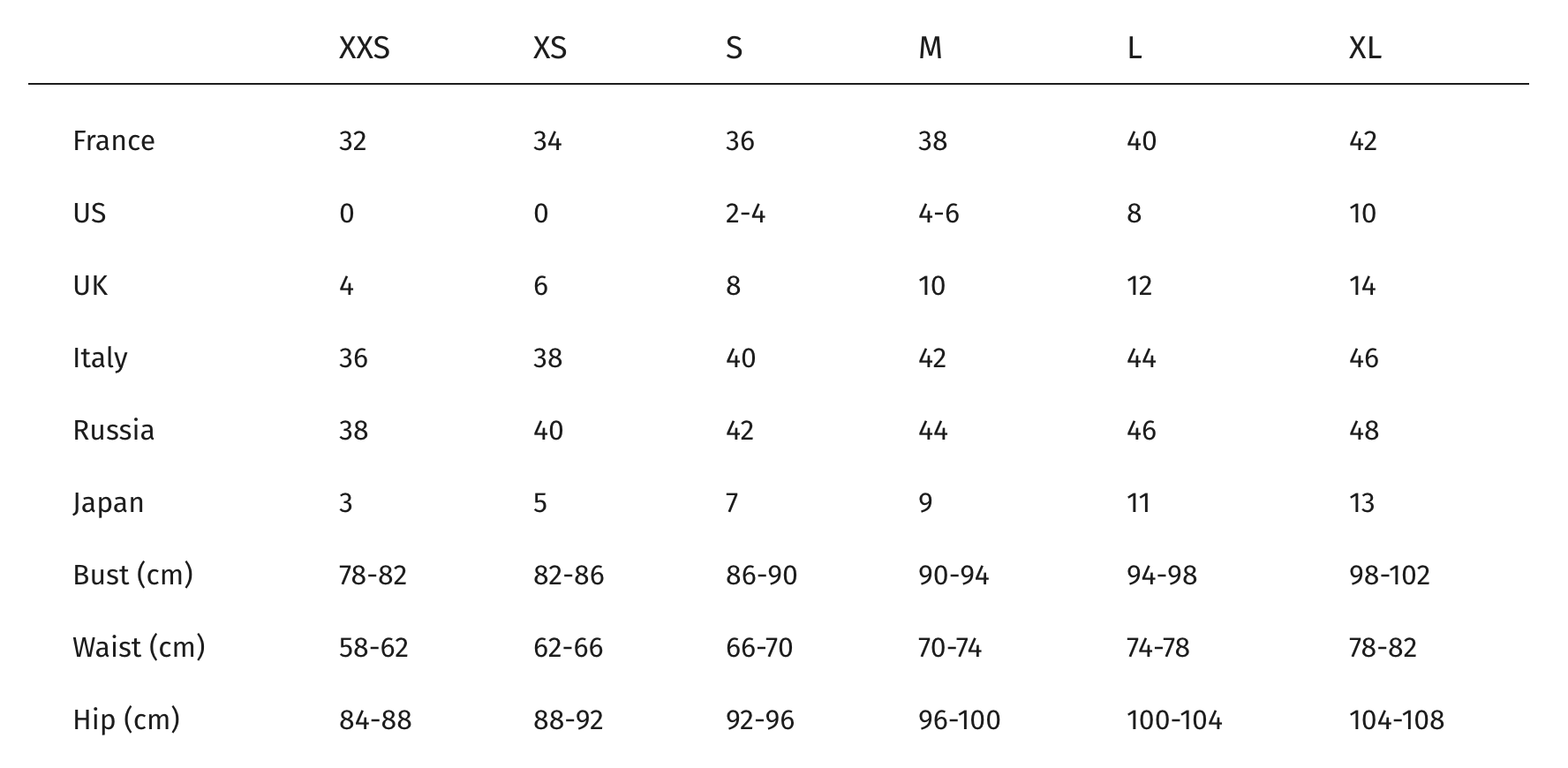 The only thing of the fit which confuses me is the line of the thigh cutouts. It was quite low and modest on the website photos but cutouts are much higher in real life. Not that it means much, they're not visible anyway from under the clothes, it's just strange considering my quite average height of 167 cm / 5′ 6". Based on this, I'd be very cautious if ordering for a taller girl.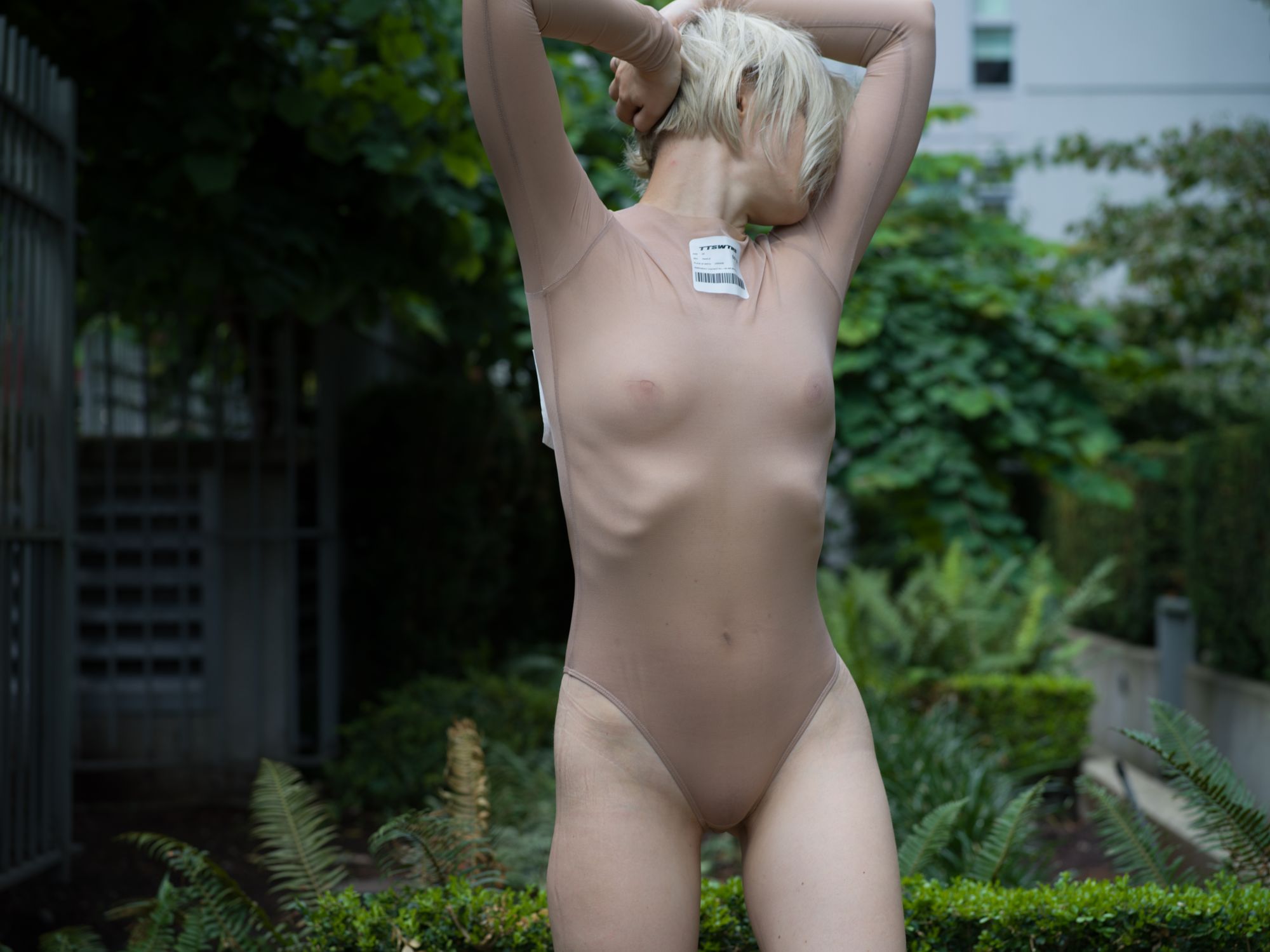 I don't remember the original price of the piece but the special offer was $130, and the discount was somewhat about 30%. My purchase was delivered quickly – it was shipped in 4 days after ordering (including a weekend) and delivered 3 days later which is super good for a free shipping.
So far so good, but as soon as I reached out to the support team about the defective panel my struggle began. I wrote them in Instagram direct messages again, thanked for the order and its look and quality, explained the situation with the defect and asked if I can somehow safeguard the front panel to ensure it staying in place. I noted that I didn't wear the bodysuit anymore in fear of the second panel to go off. They answered with an apology, promised to consult with the manufacturing team and return the next day. They didn't.
Four days later I reminded about myself and asked for the update. They answered with "the team made a decision that we need to take the bodysuit back to find out what the issue is, but we'll make a new one for you." I noted that I lived in Canada (TTSWTRS is a Ukrainian brand so it's quite a distance), and they answered with "Tomorrow morning we'll make a final decision considering this fact". At this point it started to feel a bit like I was applying for a visa or some other official document – the language sounded as if somebody was making decisions for me, and I didn't actually had a say in the matter. I didn't want a conflict though so I just waited for "the final decision". I waited for over a month, it didn't came.
I wrote them again. They answered with apologies for the delay but all of a sudden it appeared that they wouldn't be able to make a new bodysuit as they promised in the very beginning. Instead they offered me a gift of any other bodysuit currently available on the website. Which would be very nice if it weren't for a tiny detail – they were expecting to get my bodysuit back and weren't going to refund its price.
So let's make it straight. I choose a piece which I like. I buy it with my money. It's defected so they offer to exchange it for another style. Which is an ok option, but only as an option. If you send a defected piece and can't exchange it for the same one with no defects, you have to offer a refund because you're obviously a party in fault here and I am not obligated to accept another product in exchange – I may not like any of your designs or I may be just too frustrated to want another one. I bought this one, give me this one or my money back. You may offer an additional option to exchange it with another style if the client is ok with it. But such an exchange may never be called a "gift" – it's not a gift when it's paid already.
This time I explained my opinion in detail. They read the same day and returned in three days with two options. Option 1 was to give me a refund if the second panel would peel off in 2 weeks and I return the damaged piece. Well, it's better than the previous answers, though it's quite strange when the brand thinks that they owe to offer the refund only on condition of two essential pieces falling off the garment – shouldn't one be enough? We're not talking buttons here which I'd be able to reattach myself. Option 2 was to provide me with a compensation bonus in case if I decide to keep the bodysuit, it would be a promo code for a discount in amount of 50% of the bodysuit price.
I was too tired of all this story to continue attempts of conversation. I started to wear the bodysuit, the front panel didn't go off in 2 weeks, so I wrote them that I'd keep the piece. They didn't answer. Three days later just out of integrity I asked them if I should wait for the answer. They answered with a promo code and no apologies. It took 2 months and 5 days after my first complaint.
I'm currently not ready to buy something else from the brand so I saved it in case if I change my mind in the future. While writing this review I checked it though – it does work and provides a discount of $65 (well, technically it's not 50% of the product price but 50% of the price after the discount but no surprises here). The funny thing is that it can't be combined with any other codes. TTSWTRS currently arranges almost all sales by promo codes announced in their Instagram account, and they arrange them quite often now, even for the new collection. It means that I can buy a piece from the previous collection with up to 50% discount with a public promo code or a piece from the new collection with 20% discount with another promo code. I can't combine them with my "consolation prize" though so it just loses all the sense – it provides more or less the same discount as everybody who follows their Instagram account already has.
Photo: Vlad Sofronov




#Ode #consumerism #Review #Mesh #bodysuit #TTSWTRS