Review: Rosalie Wynne Skyla Bralette
Earlier this year, I got a chance to try out the Skyla bralette set from Hamilton, Ontario's Rosalie Wynne. This small company isn't yet working with retailers, but since we get so many questions about bralettes for big boobs, Sam purchased the set for herself and for me in the name of research. Spoiler: I loved it so much, I wore it for my mini boudoir shoot!
Fit
I usually wear a 30E in UK sizing in brands like Panache and Wacoal, so that's what I ordered from Rosalie Wynne. The cups fit beautifully, but I find the band fits best on the tightest set of hooks. Admittedly, I do prefer to wear my bras snug, but I'd still say this bralette runs about a size big in the band.
While we're talking bra sizes, what size range are we working with? Small-band babes, rejoice! Rosalie Wynne's bands start at 26 and go up to 36, with cup sizes up to I, which is more like a G in UK sizing. So far, there are no plus size bands available. (Looking for a plus size bralette? We've got a post coming up for you soon!)
Shape
No wires, very few seams, and a triangle cup mean this bralette offers very minimal shaping. You can definitely see a difference in silhouette between wearing Skyla and wearing nothing, but it doesn't shape or support the way an everyday underwire bra does. (Which is fine! It's not meant to!) The result is a softened version of my boobs' natural shape, with very slight compression and lots of roundness at the sides.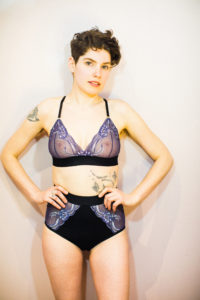 Skyla has convertible straps that can be worn straight or crossed. The straps are not especially wideset, and would probably be fine for narrow shoulders, but folks with sloped shoulders will appreciate the convertibility.
Feel
Leaving aside all the technical stuff for a moment: I love this bralette! It feels like something fairies spun for me with their own tiny, magical hands. I wear it to the laundromat, to the movies, around the house, and basically every chance I get. It somehow elevates whatever I'm doing to a fancier level while simultaneously feeling like the comfiest jammies.
The matching high-waist briefs are gorgeous, but less comfortable for me personally. I chose a size small based on Rosalie Wynne's size chart, and while the bum fit is fantastic, the waistband digs in after a few minutes of wear. I think it's just not a great match for my body shape and sensitive tum–Sam, whose figure is much more hourglassy than mine, ordered the same briefs in her usual size and finds them super comfy! The mega-high rise is glorious, and the wide elastic waistband is surprisingly soft.
Sam says…
I'm on the smaller end of full bust sizing, so to learn how Skyla works for bigger boobs, Sam (who usually wears 32GG in UK sizing) ordered herself a 32I in this bralette. Here's what she found:
"Overall I love this bralette! I find the band loose and usually wear it on the middle set of hooks. The low center and flatter shape of the cups means my projected, center full and softer breasts sometimes spill out of the center of this bra, but I don't care because it's so comfortable and pretty."
Should you buy it?
I wholeheartedly recommend the Skyla bralette. For me, it's the perfect blend of comfortable and sexy. And it's always a bonus to buy from a local designer! Check out Skyla, and more of Rosalie Wynne's beautiful lingerie here.




#Review #Rosalie #Wynne #Skyla #Bralette