I haven't been to any offline lingerie store for a while so I couldn't resist a temptation when went to Los Angeles for business trip. I popped into a couple of stores in the heart of Californian luxury, Beverly Hills. The first one (no surprise) was Agent Provocateur.
I'll be honest, I'm not a big fan of the brand. They do beautiful designs quite often but their stores usually seem way too blatant to my taste. I've been to one in Soho, New York, and it was all "in your face" kind of design, with over-sexualized in an over-stereotypical way mannequins in the windows, too much of pink and leopard, velvet and tassels inside. Well, it's probably just not exactly my cup of tea but I feel startled and tiny in front of these stores.  
"Do you really want to go here?" – asked my husband looking at the mannequin in cowboy hat and boots. I had a goal this time – my "Notes from the fitting room" column, so I went ahead bravely.
I started with a delicate Lindie set of a demi cup plunge underwired bra, brief, and suspender. First of all, it looks beautiful, and I love the embroidery but images on the website are retouched heavily. If you're waiting for this impeccable fit… well, just don't set your hopes too high. I wear 32B and size 2 for the brief and suspender on these photos which is the smallest they have for this design. The brief fits well and doesn't cut into my sides, but suspender supposes a bigger difference between waist and hips – its elastic is a little bit too tight for me while tulle is too loose (it's hard to see on the cellphone photos but I don't actually have these bumps on my sides, it's just a loose fabric, it's seen a bit better on photos from behind). This is a common issue with my proportions though so can't blame the brand.
Bra band and wires are a bit too narrow for me and wires come onto the breast tissue on the sides, while cups are a bit too big (no surprise here, I usually wear 32A) – not drastically but you can see it even on the photos, and it's only more noticeable in reality. It does create a beautiful plunge though – I usually don't have this kind of cleavage. Fabric is a bit more rough than I'd think it to be based on the price ($620 before tax for this set), and seams aren't exactly perfect either but again, nothing critical.
---
My next choice to try on was stylish Payton set of high neck underwired bra and high waisted thong, again in the smallest sizes 32B and 2. Bra this time is obviously way too big for me, and the thong runs small making huge dents in my sides.
I tried it also with high waisted brief which fits much better thanks to both straps being adjustable. Looks like I didn't adjust the upper one enough here (or is it how it looks on maximum? I wasn't paying it too much attention after I realized how big the bra was for me), and the lower one is on maximum. Anyway, I'd strongly advise to try the set on before purchasing, I'd may try a size bigger too for bottoms in this style. The set with two bottoms retails at $475 before tax.
---
I tried also a famous Mazzy swimsuit (size 2). Design is very recognizable, and I love the colour scheme of bright apricot, pink, and black. I liked the fit from the front but it seems to me looking a bit peculiar from behind, not complementing my butt to say at least. And just to show you how hard they retouch their images for the website – noticed how even the seams on the cups disappeared for some reason?
What I really didn't like at all though is some strange bumps on the seams in the crotch area. See these ones on the upper edge of the yellow patch? These are not from my panties which sit lower, these are lumps of the swimsuit's seams. I wouldn't want something like this wearing a swimsuit worth $385.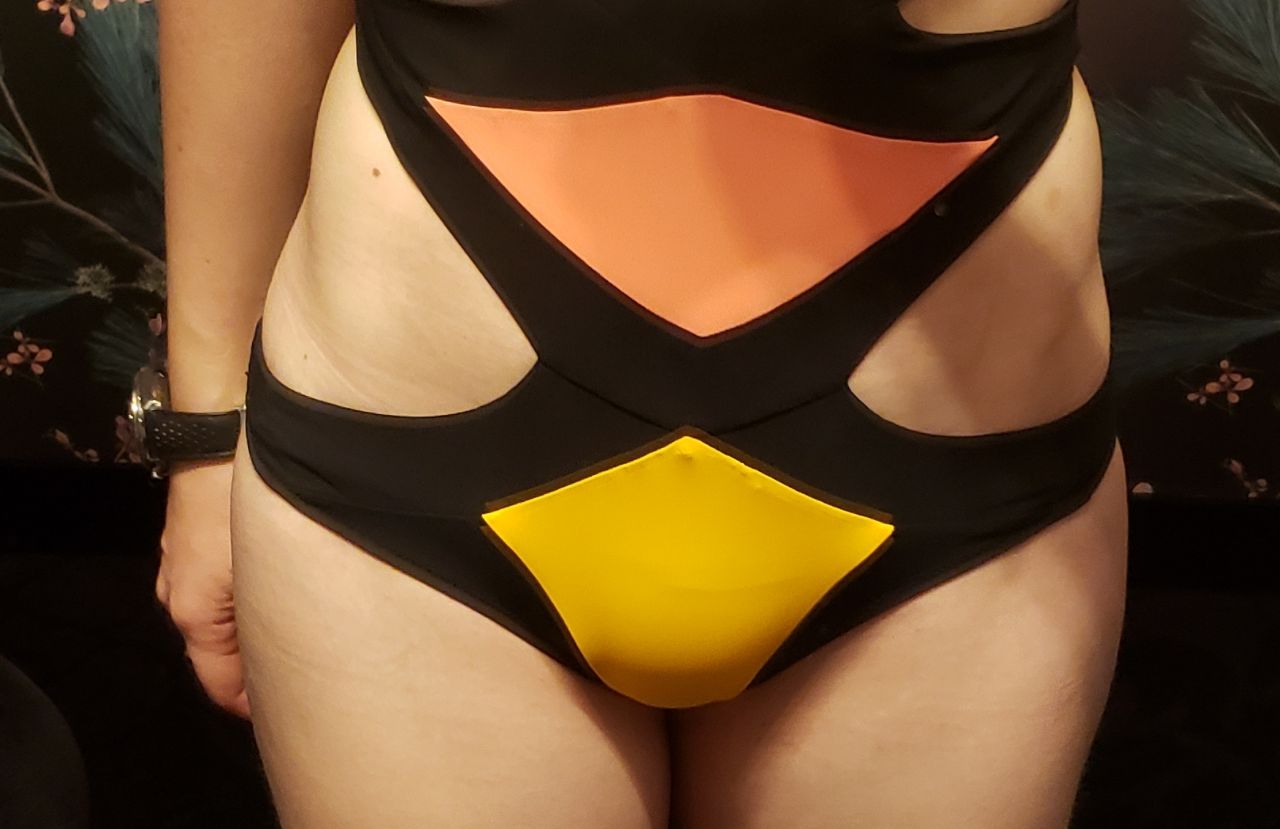 ---
The last piece won my heart. The rich green silk gown decorated with plum lace – Christie long slip – actually looks much better in real life than on the website (that's a pity that the light of the fitting room doesn't give it credit which it deserves). I have a thing for green colour, silk nightgowns, and lace appliques so no wonder that all stars aligned for me in this piece. I wear size 8 on the photos.
Here is a close-up of the fabric and lace, and also the inside of the slip with all the seams neatly hidden in silk.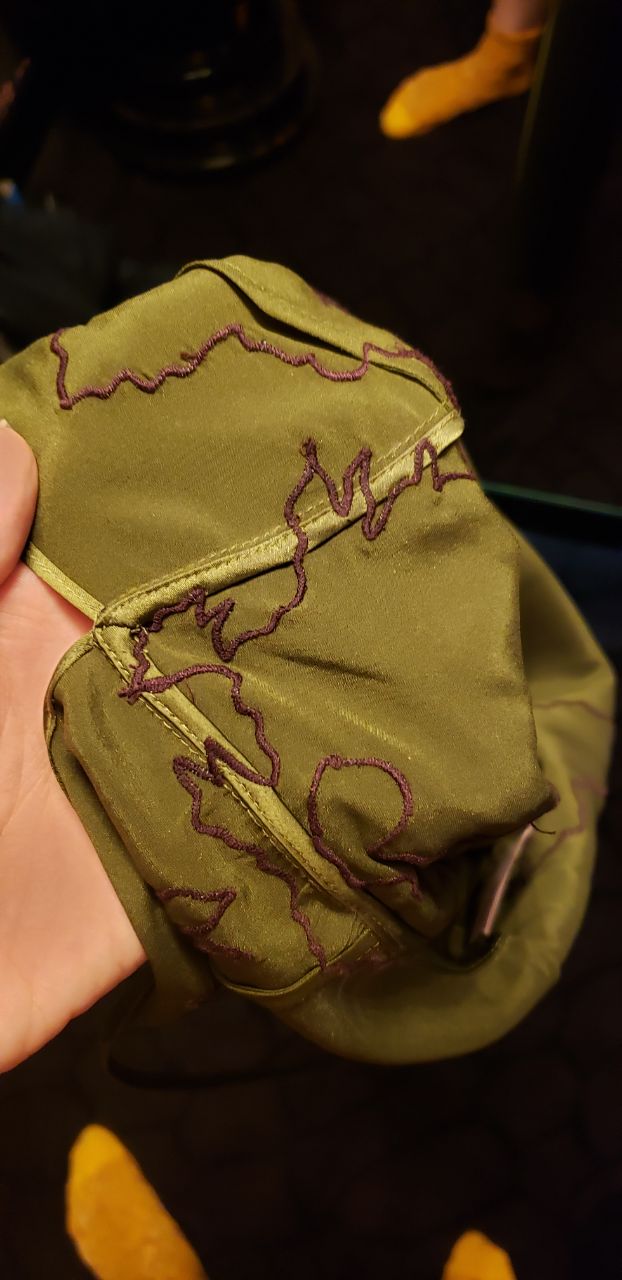 Unfortunately the price of $1,355 is way out of my budget so I had to leave this beauty behind. And as much as I love it I have to note though that strange lumps of fluff on the lace is something I wouldn't expect from the thing at this price range.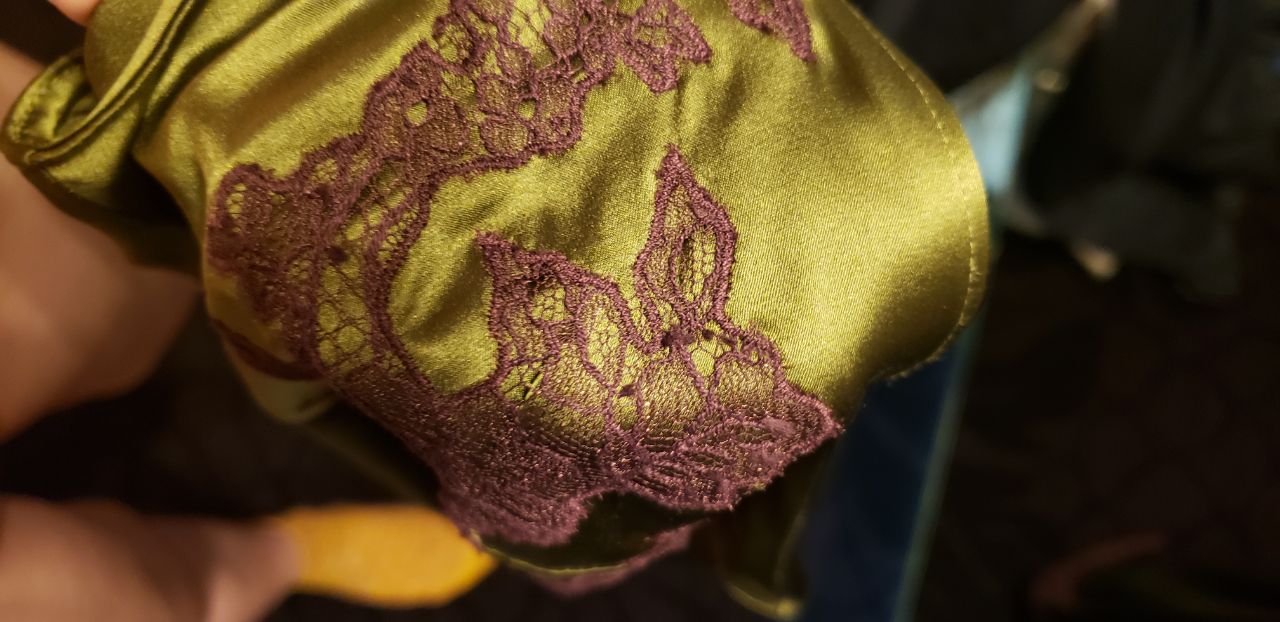 ---
Summarizing my experience, I still have very mixed feelings about Agent Provocateur. They definitely have some beautiful designs looking like nothing else, and they definitely stand out. Nonetheless I can't get rid of the feeling that here and there some pieces of the brand just don't convince me that it's worth the price.
Read reviews by other bloggers and Instagram spots of the brand on the Agent Provocateur page in my catalogue.
My measurements for reference:
Bust – 80 cm / 32″
Band – 73 cm / 29″
Waist – 67 cm / 26″
Hips – 92 cm / 35″
Height – 167 cm / 5'6″




#Notes #fitting #room #Agent #Provocateur