Best of Broad: Parfait Lingerie Adriana Bralette
For a long time, we were skeptical about bralettes for big boobs. But over the last year a few have come along and proved us wrong. One of our favourites? The Adriana bralette by Parfait Lingerie.
What makes it work?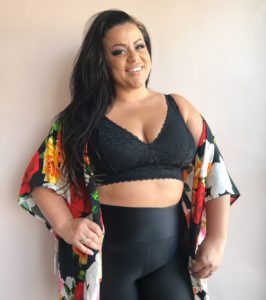 A bralette that works for big boobs can seem like an impossible-to-realize dream. Part of making that dream come true is having realistic expectations and changing your criteria for success. Unlike an underwire bra, a bralette's primary job isn't support  — it's comfort and cuteness! That said, fuller busts still require a little more from a bralette than small busts.
The Adriana bralette meets full-bust needs with smart structural details like an extended band, seamed cups, and side stays. The extended band makes sure the bralette stays put all day, while vertical seams shape the cups and give a little lift. The side stays — flexible boning just outside the cups — give the band more structure and hold.
What makes it great?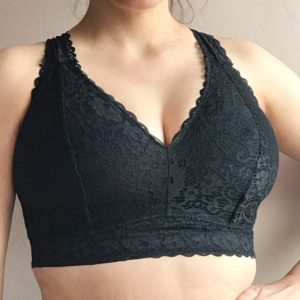 Adriana suits small to medium-full busts, as well as small bands and some plus sizes, with band sizes 30-42 and UK cup sizes D-G. The band runs about a size small in this style, so most folks will want to size up for comfort. (If you do this, remember to go down a cup size to keep the same cup volume! For example, if you usually wear a 38FF, try a 40F.)
The wirefree cups offer light compression, plus a little stretch to accommodate slight size differences and fluctuations. A j-hook lets you convert the straps to racerback, making Adriana easy to wear with different tops and extra comfy for those with small or sloped shoulders.
Soft lining means that there's very little lace actually against your body, so if your skin is sensitive or easily irritated but you long for lace, the Adriana is worth a try. And the extended band gives a fun crop-top look that's almost a shame to cover up with a shirt. (It would look amazing with high-waisted jeans and a leather jacket!)
Take a chance!
We regularly stock the Adriana bralette in classic black, and we're so excited to get it in the new mulberry colourway later this fall  — think a dusty blue-purple. If you're interested in the bralette trend but have been skeptical, Adriana's a great start. Take a chance! You just might be surprised.




#Broad #Parfait #Lingerie #Adriana #Bralette