Since I started my lingerie blog, my approach to lingerie changed drastically. First of all, I became much pickier. The quality which I'd considered good enough before, now gets to be compared to the best of the industry… and obviously loses often. The design I'd be charmed with before now is often "Oh, I've seen something similar." And factors I didn't even think about now may be paramount. So when I took a fresh look at my new wish list just to realize how different it is from the one a year or two earlier, I became curious about what lingerie brands are considered the best ones by those who keep an eye on the industry daily. This is how this article started. Brace yourselves, it's going to be a long read.
I started to ask lingerie bloggers from all around the world what brands they could name as personal top-3 in 2019. I've got answers from 47 bloggers (48 if we include myself) most of whom reside in the UK, Australia, and the USA.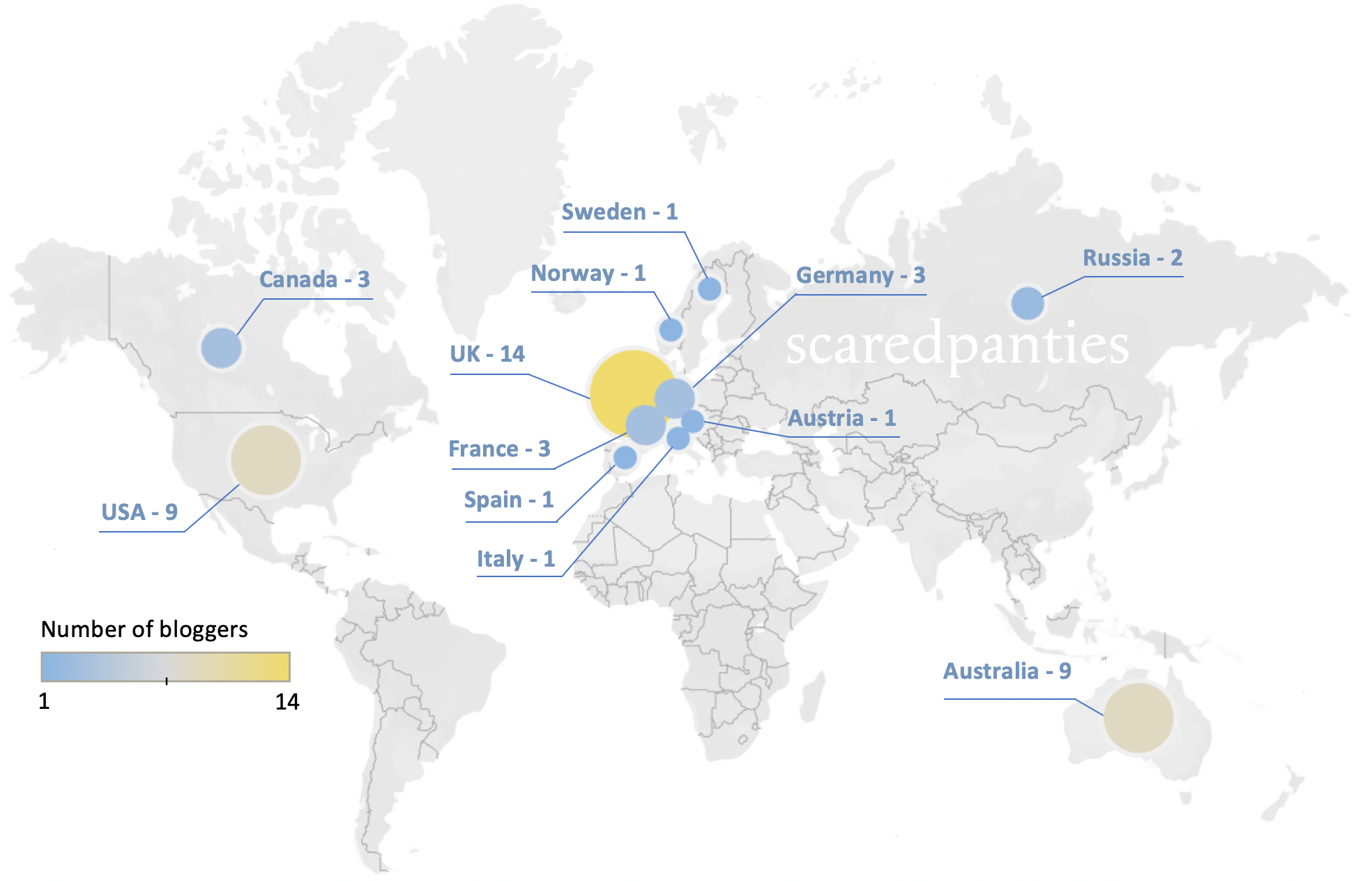 Top-5 lingerie brands 2019.
Places on the pedestal are securely kept by UK brands. Number one and number two were going head to head all the time while I was collecting the votes, and I was ready for them to share the first place (besides, they both were on my personal top-3 list). The very last vote tipped the scale.
Another trend is that quite a number of bloggers name ethical reasons of their choice along with design, quality, and good fit. "… you're supporting an indie, ethical brand, and that's more important than ever now," says Cora Harrington, founder of The Lingerie Addict, about Christine Lingerie. Cora refers to moral standards again when talking about Playful Promises, "This is a brand that walks the walk and talks the talk when it comes to inclusivity, and they make gorgeous lingerie too. A win/win for everyone."
#1. Studio Pia. 15 votes.
"Both of Studio Pia's 2019 collections have blown me away with their creativity and uniqueness. The 'hands' embroidery used on the SS19 Diara and Mira ranges is hands down – no pun intended! – the absolute best thing I saw in lingerie land this year." – said Estelle Puleston, founder of Esty Lingerie blog.
I cannot disagree. I'm still mourning their first collection which I missed, and their Soraya design from the second one was on my wish list for over a year. I've got my hands on it at last, and it's one of the best things in both intricacy and quality which I have ever seen. They've just launched their fifth collection, and I can't take my eyes of Naida design now.
Besides beautiful styles and excellent quality, I love how they manage to make things for different bodies beyond time and space. Their voters come in all sizes from 3 different continents and 8 countries. And even their very first pieces from 2017 still look up to date.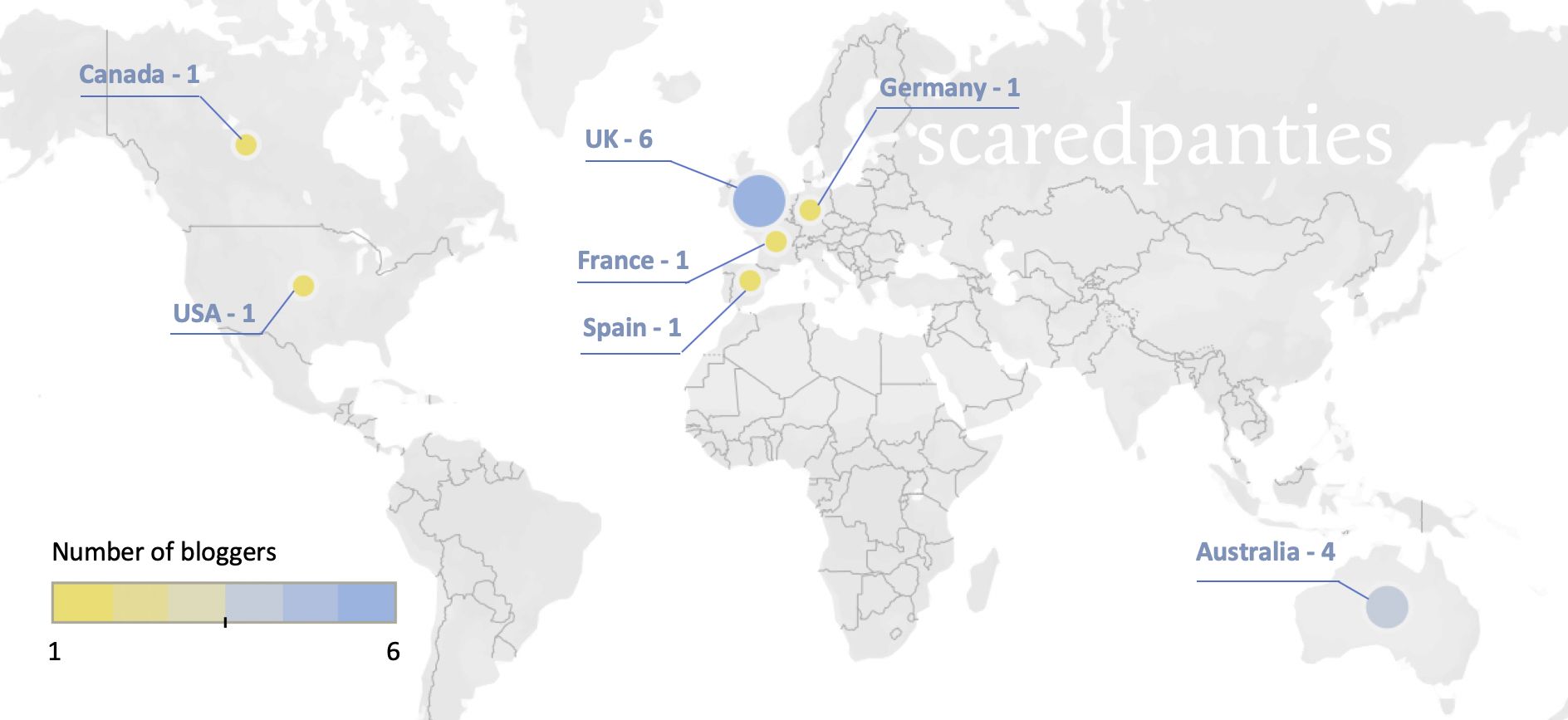 Studio Pia is also very open in their endeavours of sustainability and ethical treatment of workers in its supply chain. Read other reviews and see Instagram spots on the Studio Pia page in my catalog.
#2. Bordelle. 14 votes.
Just one vote shy from the first place, Bordelle keeps its position as one of the most craved brands in the world. "When creativity meets high quality, it's always a jackpot. Bordelle makes a very recognizable product, distinctive as theirs only. That said, they are one of a few who don't move into a boring "safe space". They masterly heat up a desire to wear their pieces as outerwear. And it's great." says Tatyana Koycheva, founder of Garterblog.
Again, one of my votes was given to Bordelle too. I have Allegra and Kendo bras from them (the latter I still have to review but here is my short video of the Allegra bra.) And their recent Moa, Wilde, and Kew designs stole my heart.
Bordelle also has a diverse crowd of voters just slightly heavier on a smaller cup size (only one voter with a large-sized cup though) and with an even more diverse geography.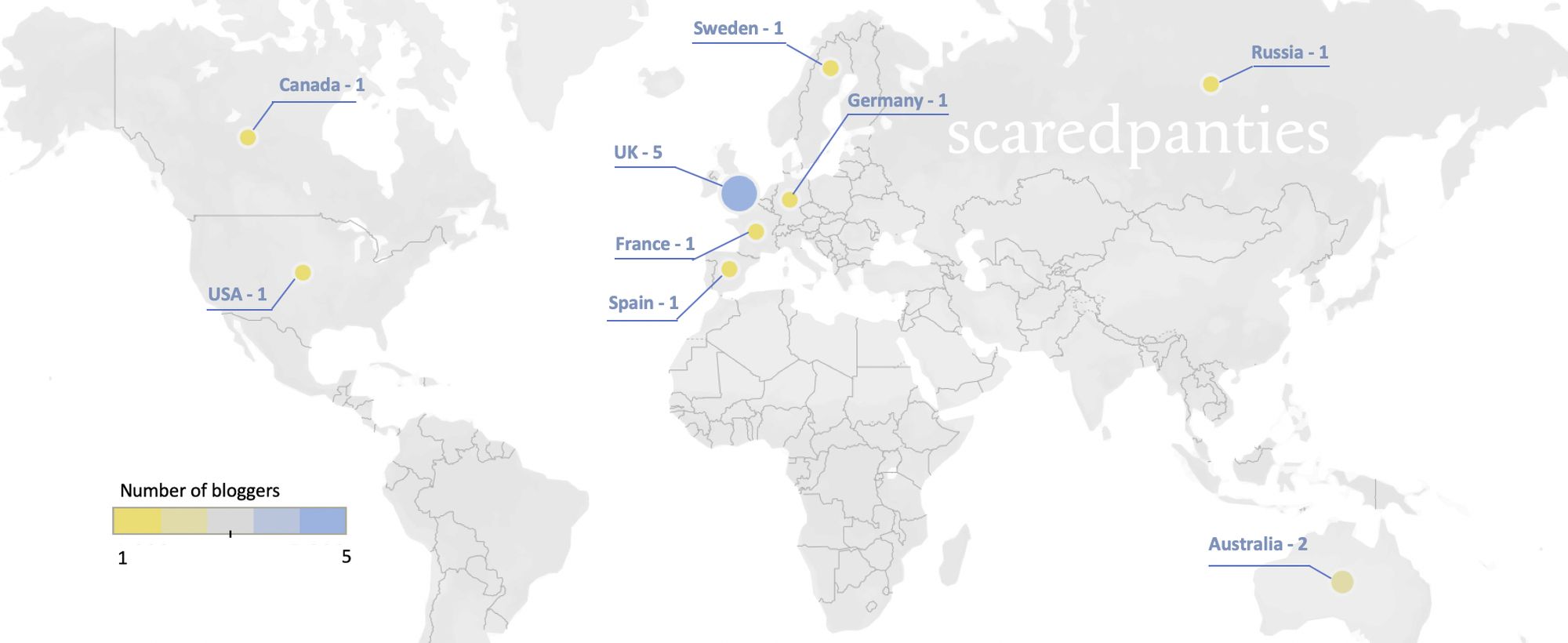 One of the things which I love about Bordelle is their devotion to craftsmanship. Their innovative patterns, custom accessories, bespoke embroideries, and a massive amount of time spent on perfecting designs never stop to amaze me. Just take a look at their Instagram post where they explain how they had to develop a whole new technique to embroider their signature elastic straps. Read other reviews and see Instagram spots on the Bordelle page in my catalog.
#3. Agent Provocateur. 9 votes.
I remember the time when Agent Provocateur was the first name to pop up whenever you'd think about luxurious lingerie. Looks like lots of the brand's lovers stay loyal, especially in its homeland UK. Milk In Armour blog writes, "I'm someone who generally likes to stick with the same makers regardless of what kind of product it is. At the beginning of my lingerie collection, I was more open-minded and bought from many different brands as I had little knowledge about quality and fit and had to find my "lingerie identity" first." She was limiting recent purchases to Agent Provocateur and Bordelle only, and this means a lot when coming from a lingerie blogger.
Unfortunately, the brand's products don't fit my measurements well (most of the designs start their sizing from a B cup, and I'm an A) so the only personal input which I can give here is a recent review of my fitting attempts. It's interesting though that almost half of the brand's voters were small-busted. The rest had medium cup sizes with no votes from fuller busted bloggers. Read reviews by other bloggers and see Instagram spots on the Agent Provocateur on the page in my catalog.
Geography-wise voters from the UK prevail with a few votes from other countries.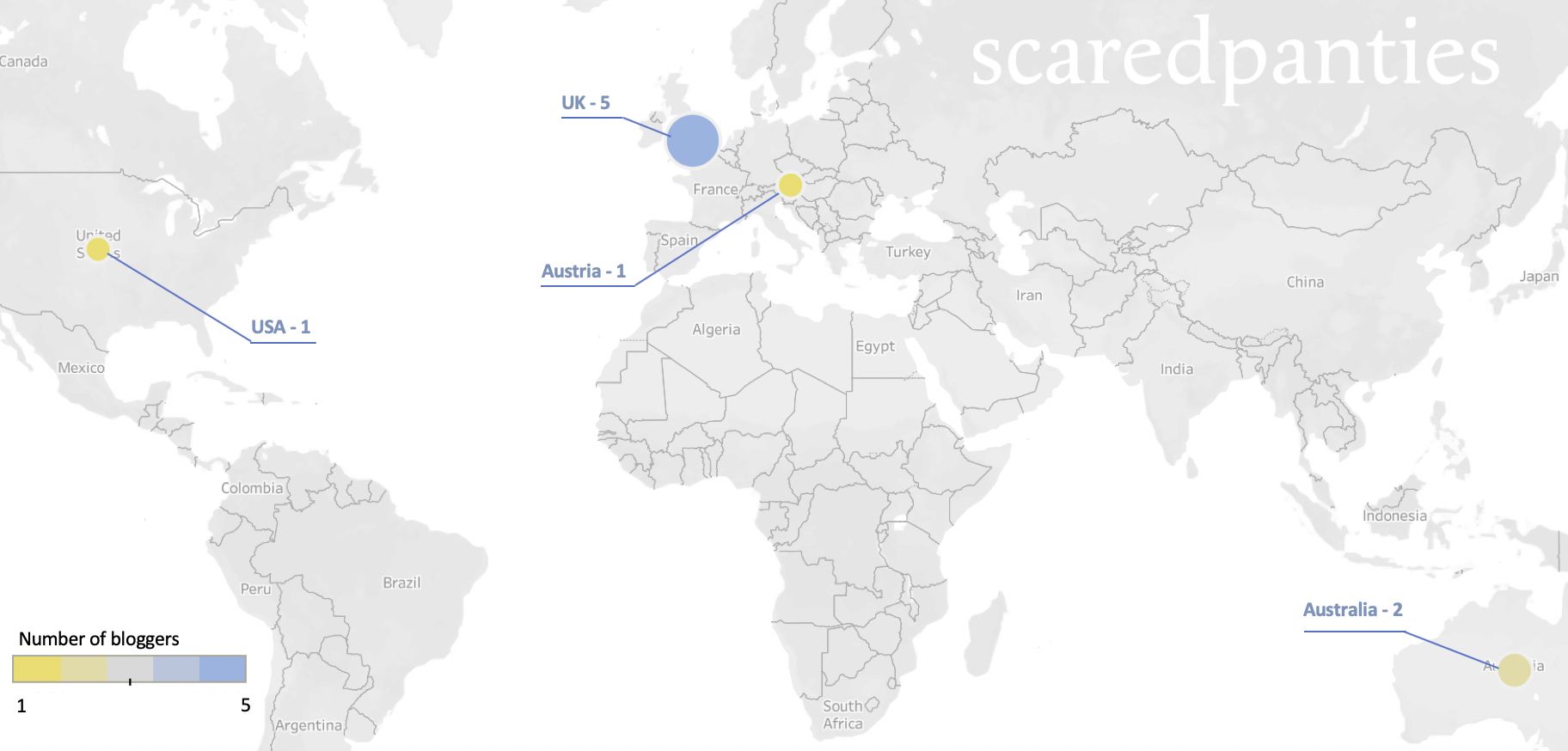 #4. Tisja Damen. 7 votes.
The only brand outside of UK which made its way to TOP-5 is Tisja Damen from the Netherlands. "I just can't leave out Tisja Damen," said LAC(E)YSOMETHINGS. Elngerie agrees, "From Tisja Damen I bought the Spirit set and Gaia garter, all three pieces are exquisite and easily interchangeable with other lingerie pieces in my collection."
My third vote also went here. Having already a Mystique bra and Divine set, I couldn't resist and bought recently Gaia bralette, brief, and harness. Two latter ones I still have to review but (spoiler alert) they are amazing. Tisja Damen pieces aren't just lingerie, they give birth to visions and emotions like none other. This is not surprising though with the artist behind the brand being not only a designer but a storyteller too. Tisja Damen creates stories for all the collections, the brand itself, and even for its ethical values. Read other reviews and see Instagram spots of other bloggers wearing it one Tisja Damen  the page in my catalog.
Voters of the brand have representatives with small, medium, and large cup sizes in 5 countries (which is quite diverse for a group of 7 voters.)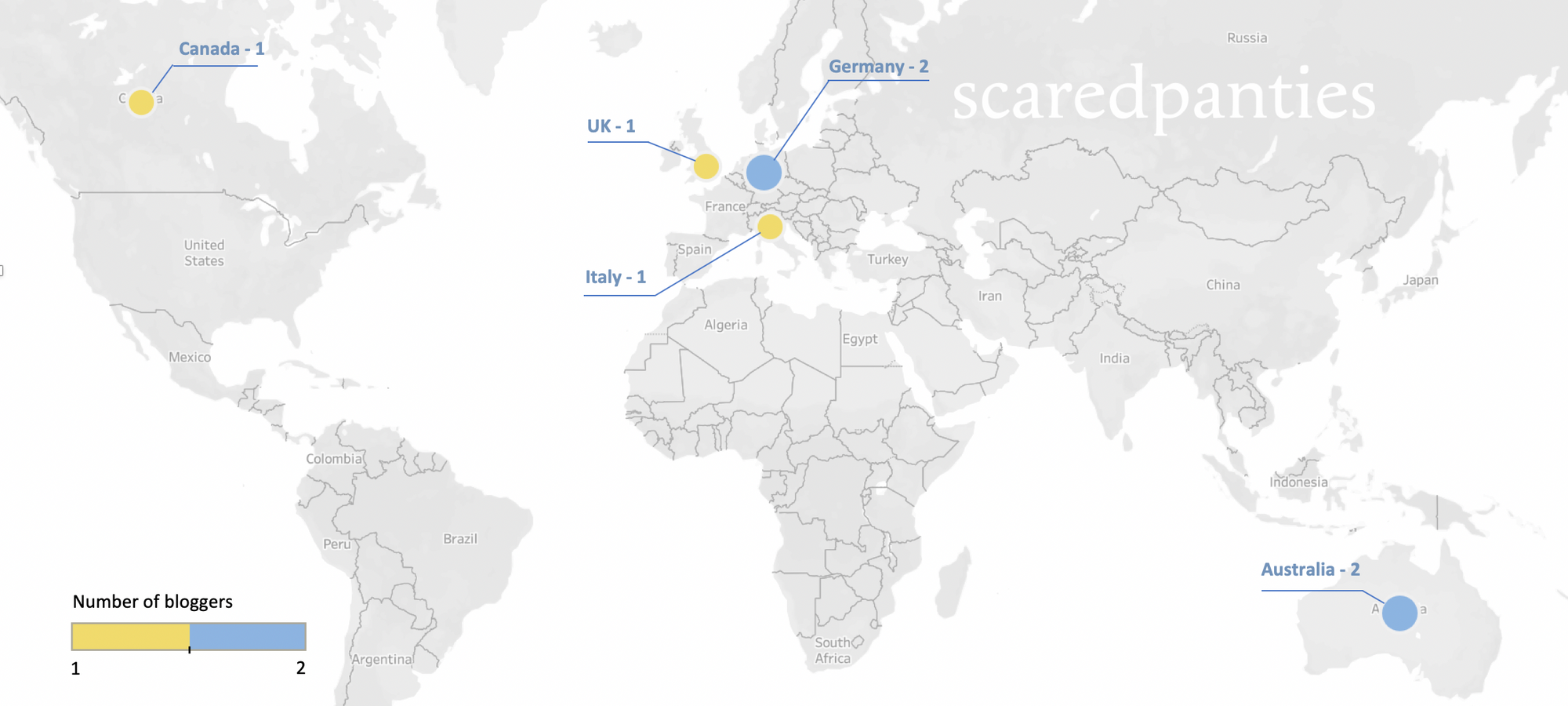 #5. Shared between Edge o'Beyond and Harlow & Fox. 4 votes.
The fifth place is a tie between two UK brands (yes, UK again) collected 4 votes each. Edge o'Beyond has votes of small- and medium-busted bloggers from Europe and USA (even though the brand's range goes up to 36E, no votes from fuller busted bloggers.)

And vice versa, voters of Harlow & Fox are fuller busted with one exception which is not a surprise considering the brand's specialization in sizes 30-38 DD-G. Geography of this one is a bit wider with 3 continents.  More info on brand at Edge o'Beyond and Harlow & Fox pages.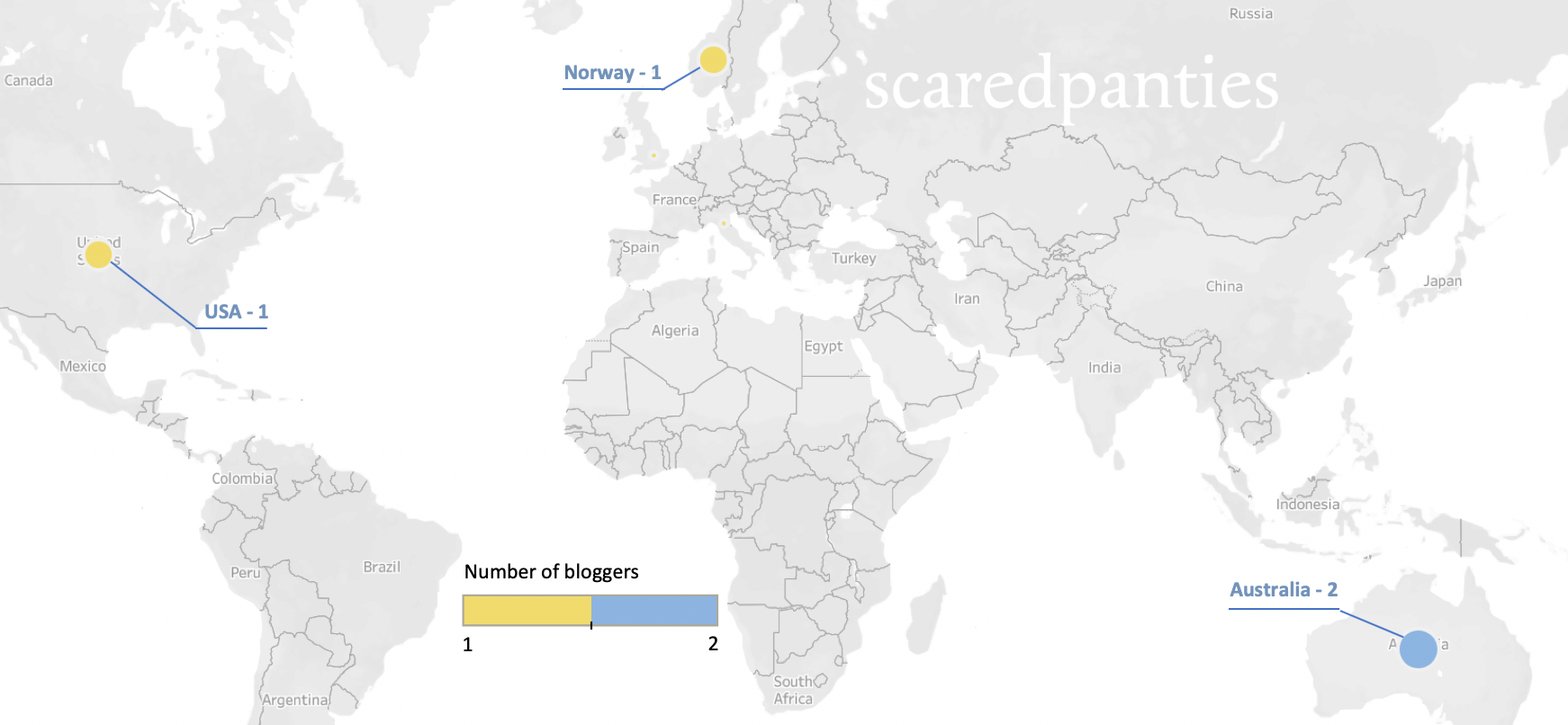 Summary of the top-5.
2019 became a year of exceptionally good work for five lingerie brands from the UK and one from the Netherlands according to lingerie bloggers. The UK was also most generous regarding the number of bloggers who took part in the polling which could slightly affect the numbers. It obviously may be easier to try on and buy lingerie in the country you reside in and skip issues of online shopping and international shipping, so bloggers may know the variety of local brands a bit better than foreign ones. Such an influence couldn't be significant though and definitely wouldn't change the names of the winners.
Studio Pia and Bordelle are too far ahead of all others. Even if we exclude all the UK votes (which is way too extreme), they would still be ahead with 9 votes each. Agent Provocateur would lose most of its votes but still would stay in top-5 with 4 points left. Tisja Damen being Dutch brand would keep all its 7 votes as none Dutch bloggers took part in the survey. Edge o'Beyond has its votes distributed evenly between four countries (one vote per country) so it's very unlikely that surplus of UK voters gave it any advantage. And Harlow & Fox doesn't have any UK voters at all.
That said, here is a one more curious diagram reflecting the structure of bloggers voted for the TOP-5 lingerie brands.
Lingerie brands with up to 3 votes.
Voting wasn't easy. A couple of times bloggers would ask to include four names instead of three not being able to choose one over another. Sometimes they could prioritize but couldn't bear the thought to leave some name out (this is how five brands got honourable mentions.) All these brands are below structured by the number of votes and with the link to the brand's website.
Conclusions on the survey.
Here is the geography of all the nominated brands. The total of all the brands named was 76 with 34 of them being UK brands (45%).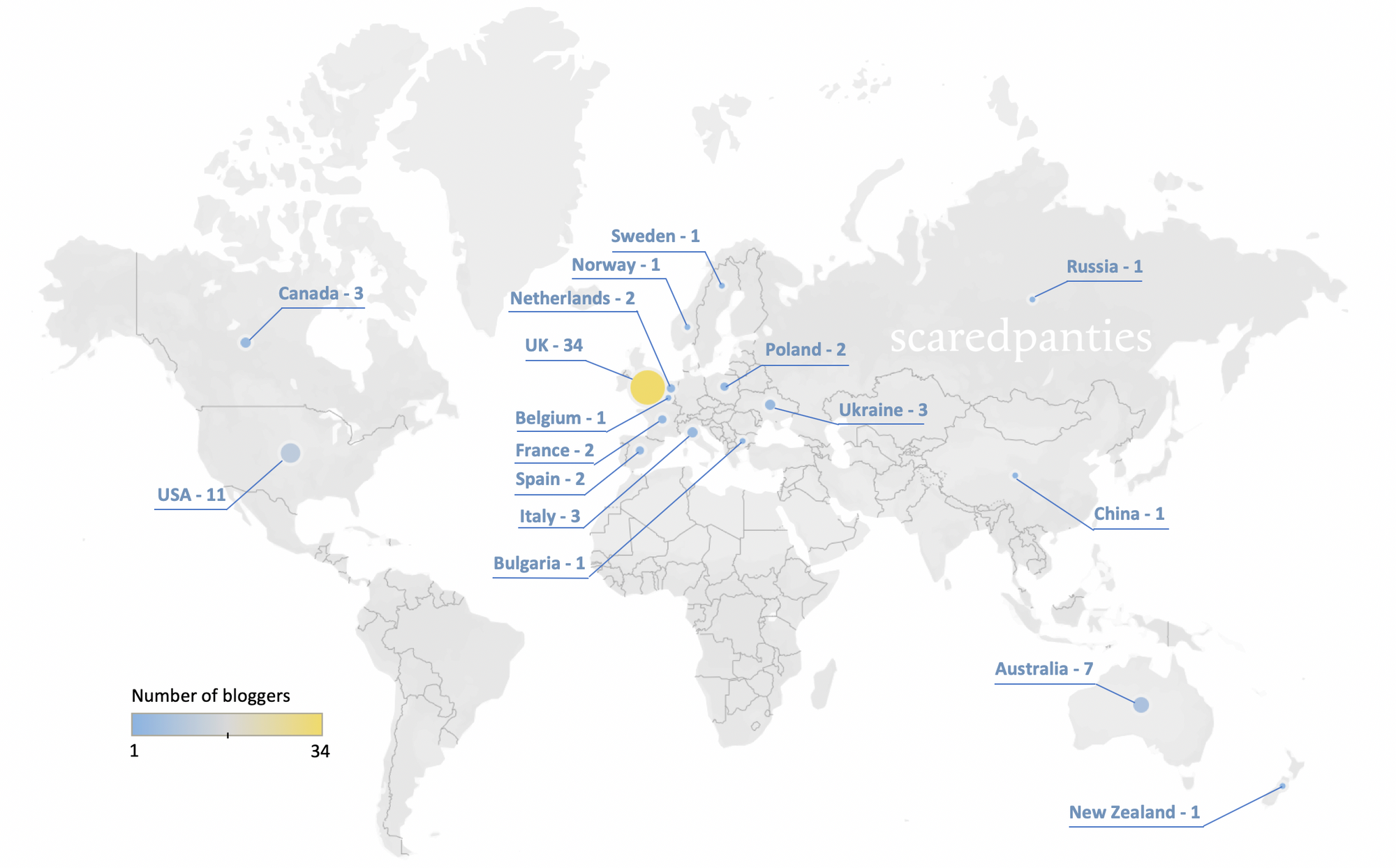 Now, we remember that 14 of 48 bloggers were UK-based too (29% of all the bloggers voted). This means that the list of brands could be affected by the geography of voting bloggers. I went through all the votes to check it and didn't find confirmation for any significant distortion of the vote. There were 8 UK bloggers who chose UK only brands. But most of these brands were nominated with a number of bloggers outside of the UK at the same time. Some of the rest have quite similar shipping terms for the UK and other countries and often don't even have an offline showroom which could be an advantage for local bloggers. Actually, some US and Australian bloggers' choice was UK brands only too (and Australian bloggers nominated more UK brands than Australian ones). The only brand which I'd consider affected is Tutti Rouge which delivers to the UK and USA only but it got only an honourable mention anyway.
And as I started to check the correlation between the geography of bloggers and brands, it would be unfair not to check other countries. As a result, I would take off three US brands, one Russian, and one Australian. DreamGirl and Auden target North America only. Feather Red delivers worldwide but delivery to Europe costs about 25% of an average product price which makes its competition with local products not sustainable. To be woman (which I personally like a lot) has a website in Russian only so a very few bloggers outside Russia would be able to order from it. And Audrey Rose the Label has no updates for the last three months so looks like it's either closed or on some kind of hiatus.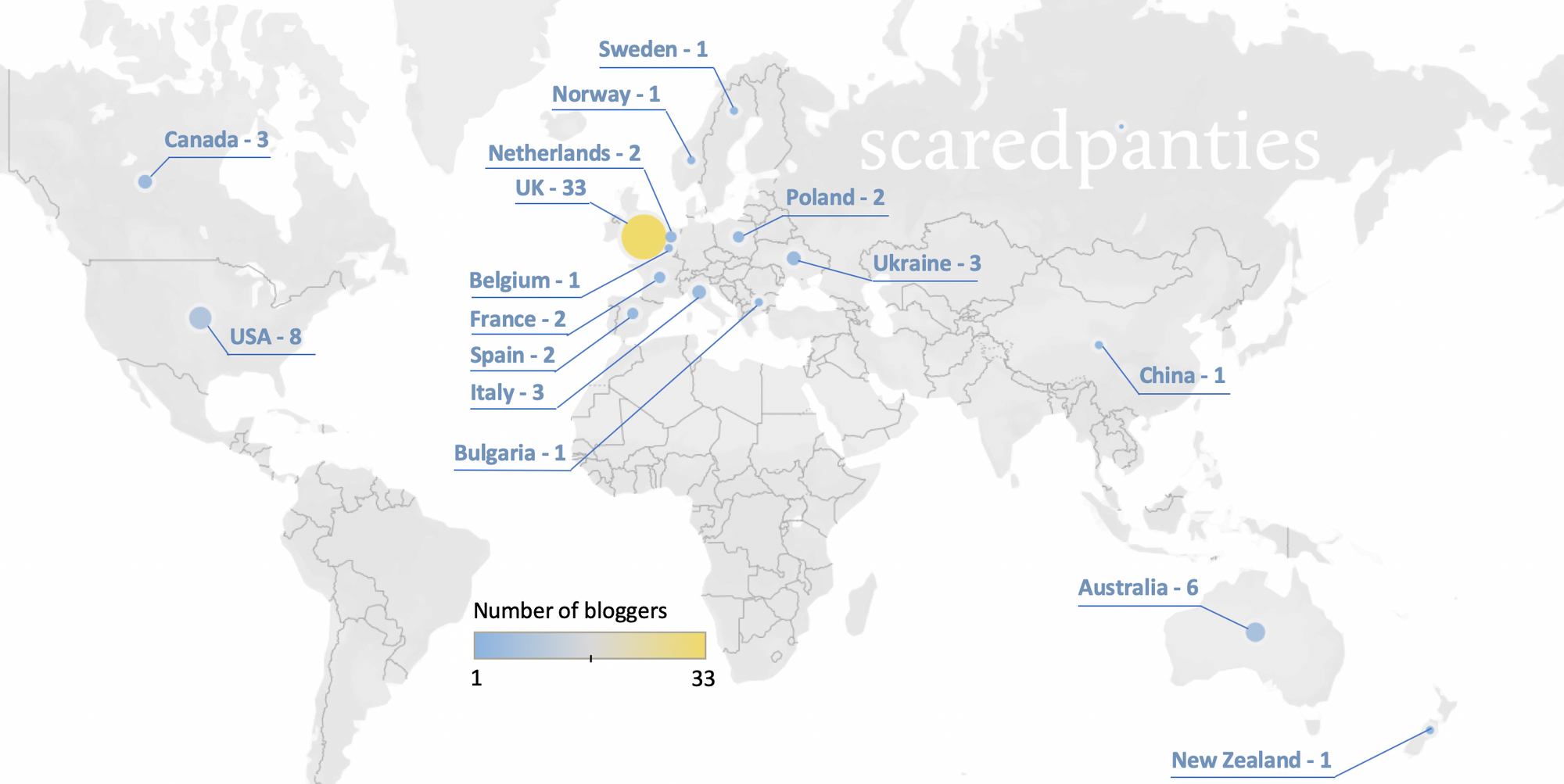 As the map shows, geo correction only strengthened the position of the UK as a leader with 47% lingerie brands named as best in 2019 being UK-based.
Gratitude references.
My enormous gratitude to all lovely lingerie bloggers to be so kind as to share their opinions for this article:




#lingerie #brands #lingerie #bloggers