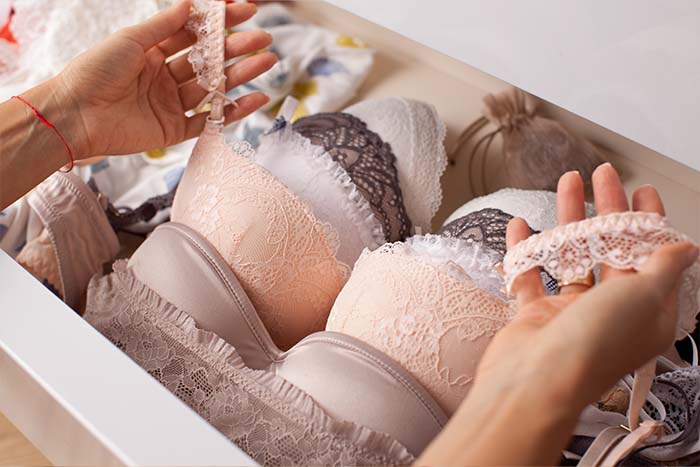 Finding a bra that fits comfortably and offers the right amount of desired support at the right bra size can be a challenge, especially for women with larger breasts. Coming from someone with larger boobs, I can relate to those sick and tired of trying on bras, only to be left with something sub-par (at the least).
If you're tired of dealing with endless bra shopping without any positive results, you've come to the right place. Today, we're diving into the best bras for large busts that are sure not to disappoint. Come on, ladies. Let's find your next bra today.
#1. Editor's Pick: Raquel Shelf Bra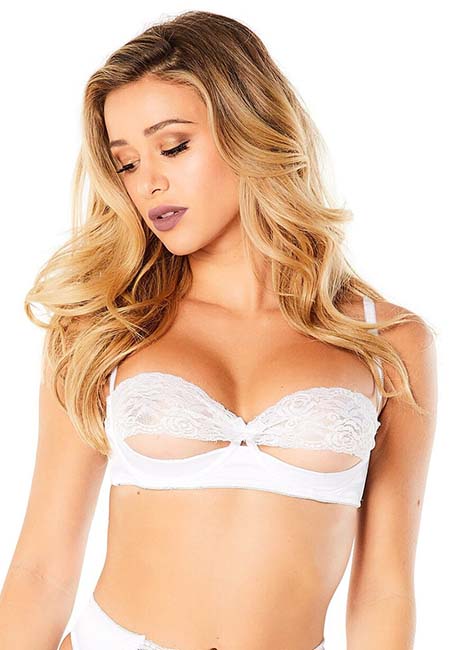 The Raquel Shelf Bra is undeniably our top pick. It combines the right amount of flirtiness, sexiness, and comfort in a single bra. It can easily be worn as lingerie (paired with matching panties, stocking, and garter belt) or worn under your clothes for an everyday style.
You'll love this bra because you can get an alluring, cut-out detail without sacrificing support. It can be challenging for large-breasted women to find styles like these that still keep their plump bosoms in place. Thanks to the shelf bra construction, you can keep your boobs in place while still sporting a knockout number. Aside from being a sexy cut-out bra, the Raquel Shelf also comes with glamorous lace detailing across the cup and a center bow to "tie" it together. Complete with adjustable straps, this is a superb option for curvy gals that want comfort, support, and sex appeal. What more could you want from your bra?
#2. Pauline Molded Cup Longline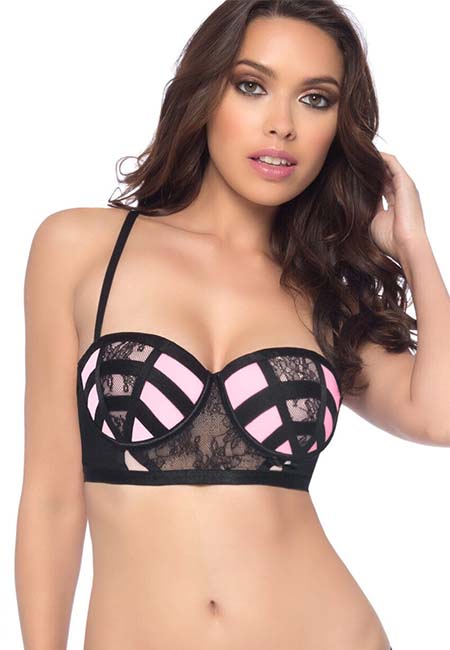 Any woman with big boobs will tell you that a longline style will provide some much-needed extra support and comfort. Well, the Pauline Molded Cup Longline is constructed with this favorable design. However, it takes it a step further with ultra-comfortable molded cups that beautifully show those larger busts. 
The Pauline doesn't stop at comfort and appearance, though. It also showcases an intricate and alluring design. The black and pink combo is displayed in a fun patchwork pattern that perfectly complements the stunning lace detailing.
Altogether, this exciting longline bra is exactly what you need to look and feel your best.
#3. Stretch Lace & Microfiber Plus Size Bra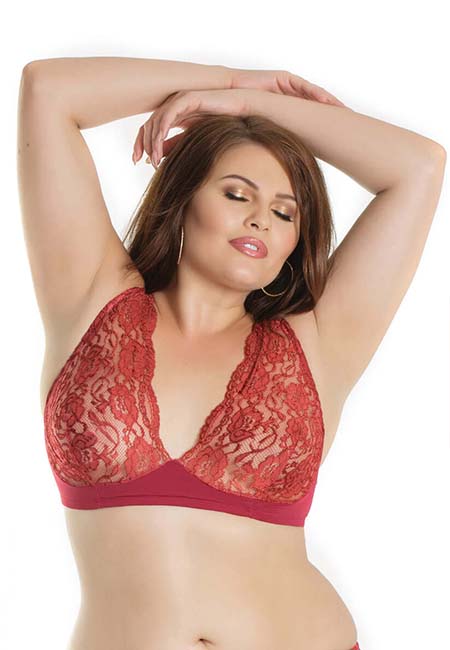 Plenty of gals with fuller busts and curvy figures enjoy something stretchy that can conform to their body without being too tight. That's what the Stretch Lace & Microfiber Plus Size Bra is all about. 
Don't think that this is any old everyday bra, though. Just because it's stretchy with a comfy microfiber support band doesn't mean it lacks seductiveness. This bra is designed with a gorgeous lacy pattern available in luxe merlot or mysterious black. The wire-free bra also comes with fully adjustable straps, essential for comfortable wear and appearance.
#4. Suzette Plus Size Cap Sleeved Bralette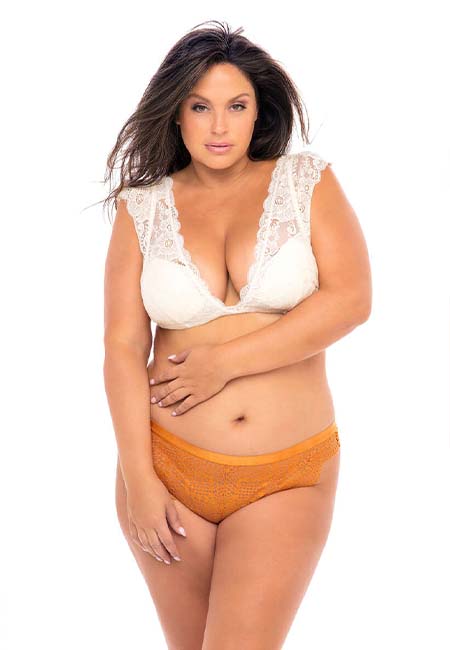 If you don't already have a bralette in your dresser drawers, I suggest buying one right away. Bralettes are oh-so-comfortable and can easily become an everyday t-shirt bra worn as an actual t-shirt or paired with a sweater. 
Just look at the Suzette Plus Size Cap Sleeved Bralette, for example. This cute bralette comes with cap sleeves patterned with beautiful lace with removable pads — you know, when you want to take this t-shirt bra to the next level in the bedroom.Adorable, breathable, and fun, this v-neck bralette is necessary for any full-figure babe.
#5. Plus Size Eyelash Lace Plunge Bra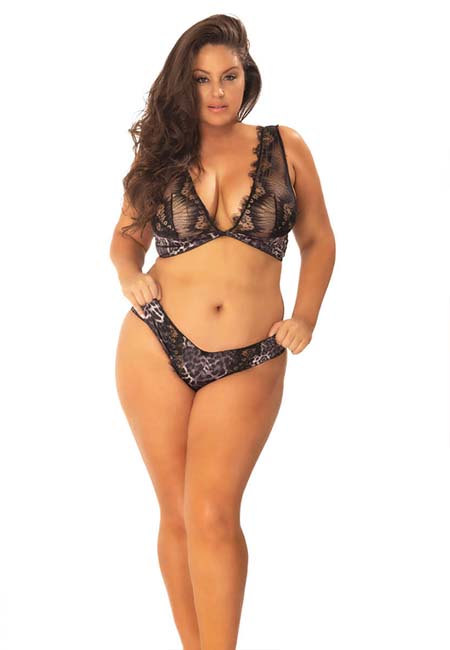 Ladies, let me tell you something — you can't go wrong with animal print. If you want your partner to say "rawr" in the bedroom, then you need a style like this Plus Size Eyelash Lace Plunge Bra.
There are so many desirable features for this charming wire-free bra. For starters, the lace cups are set in a plunging neckline setting that shows off plenty of cleavage. Hiding underneath the lacy wonders is a flexible support band adorning a fiery animal print. 
If you're looking for an unlined bra that will bring back the spark in your love life, consider this tantalizing bra. Just don't forget to get the matching panties, too, for a genuinely fierce number.
#6. Stretch Lace Plus Size Bralette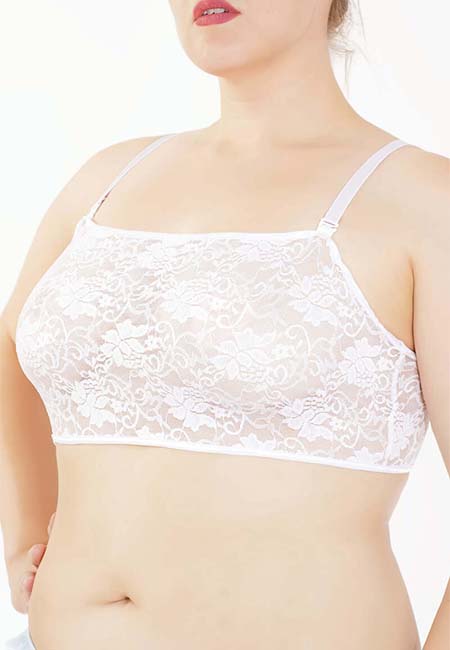 Who said bras had to be complicated or sexy? If you're looking for something minimal to wear every day, consider the Stretch Lace Plus Size Bralette.
Some might label this bra as "simple," but that's not necessarily a bad thing. When you're looking for a bralette that can pair with all of your clothes and lingerie, you'll be glad to have this lace bra in your arsenal.
Needless to say, this bandeau-style bralette is one of the most pleasant and versatile bras on this list.
#7. The Right Places Bra
As a woman with larger breasts, I know the difficulty when finding a strapless bra. Even an underwire bra without straps will be tricky as it either flops down, doesn't have enough support and coverage, or is uncomfortable in every way.
If you're tired of keeping your strapless and backless pieces at the back of your closet, then let me introduce you to the Right Places Bra. There's a reason why this bra comes in cup sizes ranging from A to D. It provides a snug and supportive fit regardless of bust size.
The Right Places bra is similar to a balconette bra in that it isn't a full-coverage bra but still has enough coverage to hide your goodies. With a bit of extra fabric around the waist, you can feel secure in the adhesive. 
Finally, you'll be able to walk out in your skimpiest attire and feel 100% confident. You go, girl!
#8. Silicone Tie Up Bra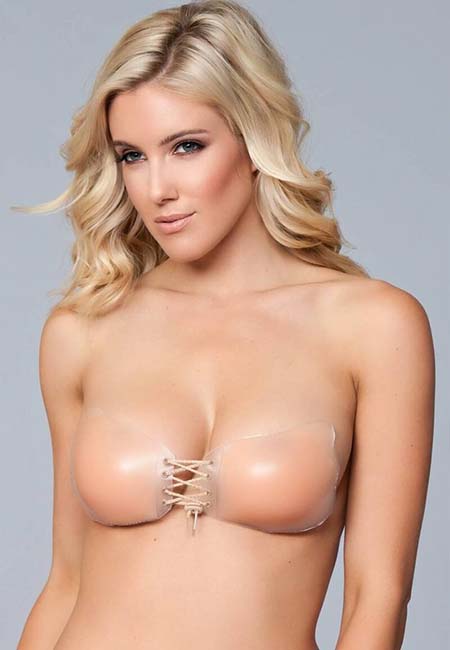 The Silicone Tie Up Bra is another one of the best strapless bra options for larger-busted gals. The bonus of this unique bra is that there is some extra padding and ties down the middle, making it more of a push-up bra style.With the Silicone Tie Up Bra, you don't have to worry about back smoothing or other difficulties. There are no straps, no back, and no extra side support around the waist. It's just you, the silicone cups, and a tie. That's it!
#9. Laced Desire Bra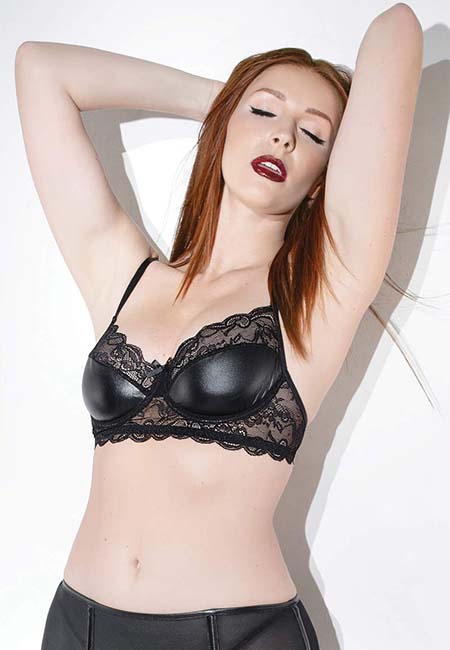 Where are my edgy queens at? If you're looking for something with a little more sass and deviousness, you will appreciate the Laced Desire Bra. This lace bra will bring out all of the lust and desire, whether you're being playful in the bedroom, kitchen, or backyard.
This delicious underwire bra is more than just a great support bra. The soft cups are aligned with a seductive leatherlike material surrounded by intricate lace detailing. In the middle is a lovely bow to tame things down (just a bit). 
The combination is nothing short of fascinating and alluring, making it your next go-to for passionate sexual adventures and fantasies.
#10. Cut Away Wetlook Bra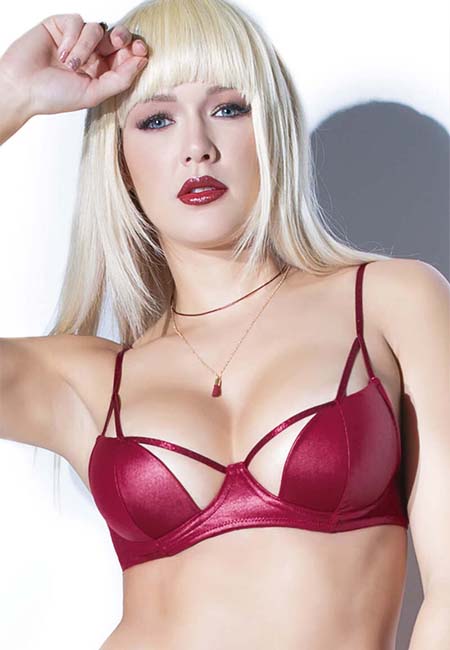 If looking like the most stunning leather mistress is what you're after, you will fall in love with the Cut Away Wetlook Bra. Featuring a sultry "wet" look, this cut-out bra is dripping with sex appeal. It also comes with matching gloves, stockings, and thongs for a truly wet and naughty display.
#11. Crossed Desires Bra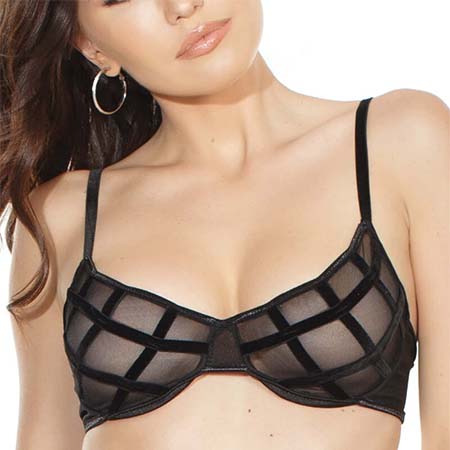 When buying a cute and comfortable bra for larger breasts, you don't want to mess things up. Or should I say "mesh" things up? The Crossed Desires Bra features mesh cups that are highly intriguing, with criss-cross pattern detailing on top. It's simple yet luscious enough to be a part of your intimates wardrobe.You will enjoy this bra because it offers the perfect fit with band sizes S, M, L. It's easy to find your match and with adjustable shoulder straps, creating a fit you're satisfied with is a cinch. Who said you couldn't look adorable and have a perfectly-fitted bra?
#12. Intricate Strap Wet Look Bra
Anyone who enjoys dabbling in the BDSM world needs a wet look bra to support their larger busts. If you're on the hunt, I've got the bait: the Intricate Strap Wet Look Bra. This bra features an entangled wet construction that is nothing short of fascinating.
On top, you will find a collection of straps that intertwine across the chest and meet in the middle — think of a racerback bra, but with the straps in front. Underneath are two soft cups with leatherlike material and a fishnet that wraps around the underbust.
#13. Sequin Bra Top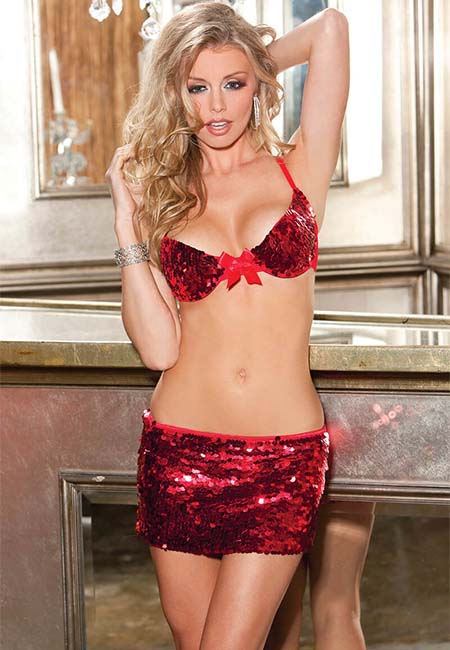 If you haven't learned by now, large busts don't have to resort to sports bras to get support and comfort. There are plenty of stylish options and even sultry and sexy pieces, like the Sequin Bra Top, for example.
The Sequin Bra Top is undeniably the most flashy and alluring bra on this list. Bedazzled with shimmering red hot sequins and a bright red bow in the middle, this bra makes you look and feel like you're right off the Vegas strip. 
With a bit of padding and an underwired style, this knockout number is something every gal should have in her dresser drawer. Don't worry about this bra fitting, either. With a Small, Medium, Large, Extra Large bra size option, almost every lady can find a size that works for her.
Choosing The Best Bra For Large Busts
Whether you're shopping at Freya, Amazon, Wacoal, or Bare Necessities, you need to know what to look for when choosing the best bra for large busts.
Type: Style is the most critical factor when shopping for large busts. But don't think you have to settle for sports bras. Even the best sports bras won't be enough for bedroom antics and when you want to feel sexy. Think outside the box. Demi, balconette, bralettes are also excellent choices for large boobs.
Support: Larger-breasted women need to think about support more than others to avoid back and shoulder pain. Finding a comfortable bra that can handle high impact is imperative. Look for padding, adjustable thick shoulder straps, an underband, and other features.
Appearance: When shopping, don't forget about looks, too. Are you going for something you can wear every day, or do you want to surprise your lover with something exotic or flirtatious?
The Bottom Line
Shopping for a bra can be challenging regardless of the bra size range, but it's not impossible. Those with big boobs (like me) can find functional, sexy, and in-between pieces. Whether you opt for the lovely shelf bra or turn up the heat with sequins or leatherlike pieces, you can rest assured these bras are A+ options that won't disappoint.
Frequently Asked Questions
What type of bra is best for a large bust?
Typically, the best bras for larger busts will have some support, such as padding or wire. But that doesn't mean large-breasted women can't rock a wireless bra or similar styles. For example, a wireless shelf bra or a balconette or bralette can offer plenty of support without "extras."
What are some of the most important features in a bra for a woman with a large bust?
Before thinking about what features to consider, start by knowing your bra size. It is prevalent for big-breasted women to buy the wrong size, which will cause discomfort, bulging, and other mishaps. Knowing your correct size will lead to better-fitting bras overall, regardless of the style of bra you choose.
Once you know your actual bra size, the next thing to consider is straps. You want to find adjustable straps or strapless numbers. Straps can cause a great deal of pain on the shoulders and back. Being able to avoid or adjust when necessary can help ease aches and pains.
Lastly, think about the style of the bra. Some types are better suited for large busts than others. It depends on the person, but I have always enjoyed padded bras to create a better overall shape. Some women prefer no padding and no wires, and that's okay, too. As long as it provides a good fit with enough support, you're golden.




#Bras #Large #Busts #Full #Guide