Reusable Face Masks by Bolero Beachwear: A Review
Welcome to the new normal! By now we're used to following best practices: frequent handwashing, physical distancing, and wearing a face mask. Wearing a mask doesn't dramatically decrease your chances of catching COVID-19. Instead it reduces the chance of you inadvertently spreading COVID-19 to others. By wearing a reusable face mask you're saying "I care about you and I care about my community." So why not say it in style?
Bolero Beachwear is known for their comfortable and practical curve-flattering dresses. I've always loved how designer Patricia McCaw mixes fit, practicality and style in her clothing design. When Patricia heard about mask shortages in hospitals, she started making cloth face masks to donate to the medical community and applied that same design ethos. After great feedback, she began selling these masks online, and I immediately bought one for myself and one for my partner. I've purchased several cloth masks throughout this pandemic, and my Bolero masks are my favourite. They fit snugly and comfortably, they wash well and they come in fun prints and colours.
So when Patricia asked if I would review a very special pair of lingerie themed masks, I jumped at the chance!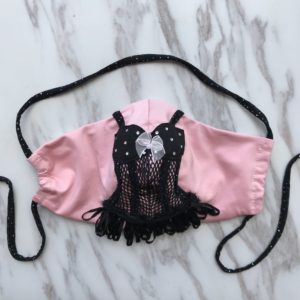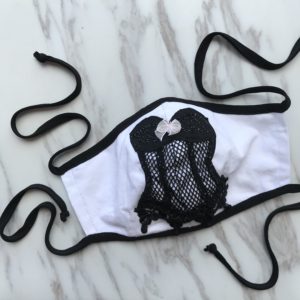 The Make & Wear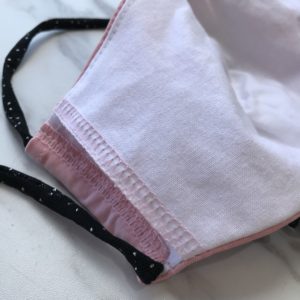 These masks are based on Patricia's Face It style, which is shaped to fit snugly to the face (versus the pleated style of mask). The body of the mask is 100% cotton, which is breathable (yet tightly woven enough to protect), cool and comfortable against the skin. A pocket feature gives wearers the option of inserting a filter if they so choose. And the stitching is professional and consistent throughout — I've machine washed and dried these reusable face masks in a mesh wash bag and they hold up nicely.
The Look & Style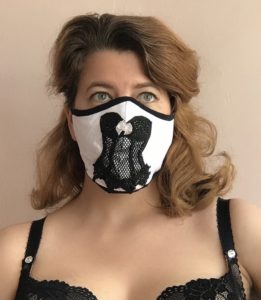 These adorable masks feature handcrafted black lingerie embellishments. One style has rhinestone details, and the other has a fun little fringe. Both feature bold contrast, and they're a whole lotta look. While these masks aren't on brand for my typical style (I tend to gravitate towards "eccentric vintage nana" instead of "sexy pinup"), I fully appreciate their zaniness.These are for those times when you want to stand out, make a statement and have fun! I probably won't get regular wear out of these face masks, but I think they'd be great for special occasions like when I am able to safely reopen my store.
I also received a special order request  — Patricia had a fabulous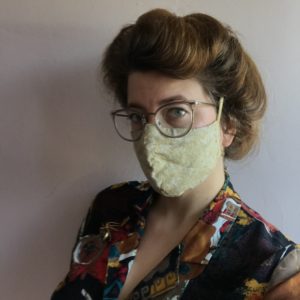 gold abstract fabric that was normally only used for her Pleated Style mask, and she was kind enough to make this into a Face It style for me. This is now my #1 favourite mask that I own. In my opinion, gold is a neutral. I've paired this mask with many of my outfits, from bold patterned jumpsuits to demure 1960s sundresses. I may have to order a few more of these gold masks, because I'm always sad when I can't wear this one because it's in my laundry basket! (Remember: it's important to wash any reusable face mask after every wear.)
The Fit & Feel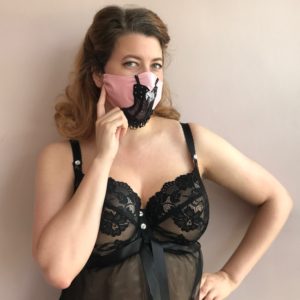 This is where these masks really shine! As a glasses wearer, I appreciate that these masks shape well to the nose, to prevent fogging. I also appreciate that Bolero's design curves under the eyes; many shaped face masks end up irritating my sensitive under-eyes when they come up too high across the nose. The ties are made from a soft stretch fabric that allows the wearer to fasten their mask firmly, yet comfortably. (I prefer tie-on style masks like these rather than the ones with ear loops, as I'm a delicate flower and ear loops end irritate me.)
Most importantly, these face masks are comfortable for extended periods of wear. Many people can just throw on a mask for a quick half-hour trip to the grocery store. But when my store reopens, I will need to wear a mask during bra fittings, so I need something I can wear easily (and not fidget with) for extended periods of time! With that in mind, I've been practicing wearing different masks for longer periods, and so far, Bolero is the winner.
Face Masks Can Be Fun!
Patricia makes a reusable face mask feel like a fun accessory, and she's got a mask for every mood! Want to pay homage to Britney and Justin's iconic denim American Music Awards act? There's a mask for that! Feel like channeling your inner 1990s supermodel? There's a mask for that too. I love my Bolero face masks! The fit, comfort and construction is unparalleled, and I love having different options to match with different outfits. Highly recommended! You can order yours here.




#Reusable #Face #Masks #Bolero #Beachwear #Review