Jumping Out of My Comfort Zone
Bolero Beachwear is known for their cute and comfortable clothing designed for curvy bodies. We love how this brand mixes fit, practicality and style. This absolutely wild jumpsuit lives up to this brand's reputation of making cute clothing that fits curvy people. But I'll admit, it took me some time to give this jumpsuit the attention it deserved.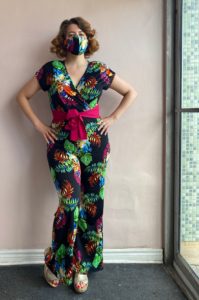 Like many people, I'm feeling more than a little blue lately. My ideal solution for this would be a COVID-19 cure and dramatic systemic change. And like most people, my body has changed a bit due to staying home and stress eating more. So I was feeling a little uneasy about wearing something so… attention getting. But my mind and my mood totally changed once I finally put the jumpsuit on and started taking photos!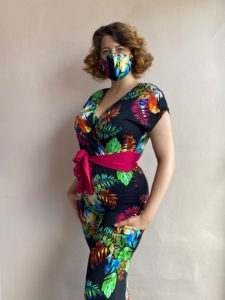 The Basics 
This jumpsuit is made of soft, stretchy, easy-care material. This is the sort of piece you can toss over a chair and not have to worry about wrinkles or ironing. The faux wrap front is cut with lots of depth and room to accommodate a fuller bust. It stays perfectly placed on my 34G bust – no safety pins needed! The short sleeves have small removable shoulder pads and it comes with a matching belt with side boning  to create a nipped in waist. Plus, there's a subtle pocket on the side of the pants!
The Look & Feel
Bolero offers this jumpsuit in an array of beautiful prints. I chose a material in a bright tropical print with a black background. I love a multi-colour print because it gives you lots of colour matching options! I'm a little extra, so I decided to pair this jumpsuit with gold platform sandals. But it would look just as great dressed down with black flats or dressed up with black heels.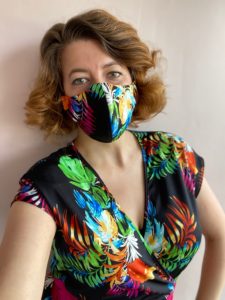 This piece has a subtle fit and flare silhouette, with the legs fitting close through the hips and thighs, then getting wider at the bottom. This is more of a gentle 1970s shape than my 1940s Katherine Hepburn-esque wide leg trouser comfort zone. This aspect made me a little nervous, as I don't usually wear clothes that are fitted in the hip and thigh area. But once I had this jumpsuit on for a few minutes, I started to feel more confident.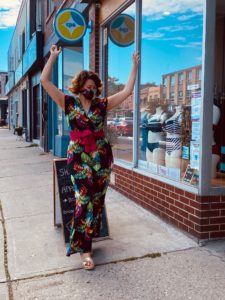 First off, this jumpsuit is incredibly comfortable. This piece looks dressed up but feels like comfy pjs! Due to the soft stretch material, you can move around with ease. It's cut with good stretch and room through the torso, and as mentioned above the wrap over neckline doesn't pull or gape. This jumpsuit hugged my curves, but in practical way. Once this piece is on, it's on; no fidgeting or fussing necessary. Patricia was kind enough to throw in a matching mask, which was just as beautifully made as the jumpsuit!
Put it all together: tropical  jumpsuit, matching mask, bright pink belt, gold shoes. There was something almost… punk rock about the outrageousness of this outfit. I had to smile! And then I had to werk. Readers, I am not a "let loose and dance in public" person. But when I stepped outside to take photos in front of the store, I couldn't help but move!
As we continue to push through these difficult times, I'd like to encourage people to jump out of their comfort zone. Attend that weird zoom party you've heard about. Buy that utterly impractical-but-fabulous robe. Try cooking a dish beyond your skill level. It just might turn your mood around!




#Jumping #Comfort #Zone