Review: The Sam Dress by Bolero
Bolero is known for their cute and comfortable curve-flattering dresses. We love how this brand mixes fit, practicality and style. Their wrap dresses are legendary – no safety pins or camisoles needed! The Erica wrap style has been stocked at Broad, and reviewed by yours truly!
I adore vintage fashion, and appreciate how often Bolero borrows inspiration from the 1950s to invoke a playful pinup vibe. So I started to imagine a dress that would borrow from the 1940s, my personal favourite period in fashion history. A strong shouldered silhouette was popular in women's fashion during the mid-1940s. This was the time of tough, no nonsense broads, and dangerous noir femme fatales. Then as we reached the post war era, Dior debuted his New Look, with lusciously full skirts. I wanted to combine these silhouettes to create the dress of my dreams! I contacted Patricia, the designer of Bolero with my vision, and she agreed to help me make my dreams come true.
The Look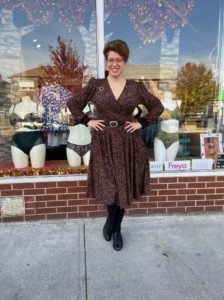 This dress is a surplice, or faux-wrap style. This means it gives the look of a wrap without the fuss of actually wrapping. The crossover bust creates a flattering ruching in the front that gives a little camouflage for the tummy-conscious. The shoulders are (in my humble opinion) the most perfect shoulders ever. They create a strong line, without veering into 1980s power suit territory. There are removable shoulder pads, should you wish to tone down the look a little (why?!). The sleeves are fuller bishop-style with a black cuff to add even more drama. And the skirt is a full, swishy circle that comes just a little below the knees. I wore mine as-is in the photos, but I think it would look fabulous puffed out with a crinoline. I love a fun pattern, so I chose a gorgeous speckled orange and black that I think would pair beautifully with all sorts of accessories, but I think this dress would look incredible in all sorts of prints and solid colours. And to top it all off, this dress has POCKETS.
The Feel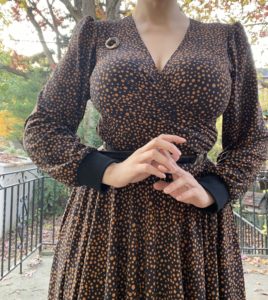 This dress is made of beautiful, soft ponte material that's really easy to care for. This is the kind of dress you can sling over the back of a chair, and pick up a couple of days later, wrinkle-free. The material has gentle stretch, so it will accommodate different body shapes and size fluctuations. Basically this dress feels like wearing the softest, comfiest sweatpants in fancy dress form!

The Fit
This is a dress that fits big boobs! This dress fits accurately in my most commonly purchased size (large). Everything sits in the right place because this dress has been designed with curves in mind. The waist actually sits at my waist instead of sitting right under my breasts – a common big-boob problem!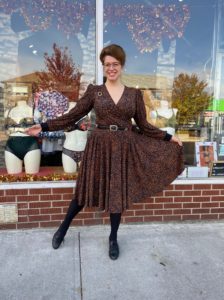 The Style
This dress comes with a black sash belt, that's reinforced in the center, with stretchy ends. This means that the part around your middle stays flat without wrinkling or rolling, but the ends can be tied in different ways (a bow, or looped around the waist a second time). Of course when it came time for photos, I realized I had misplaced the belt. I styled this dress more casually with  practical heeled oxfords, opaque black tights, a vintage black belt and a brooch. You could easily be gussy this dress up for a night out with heels and sheer stockings.
Bonus: A Matching Mask
The ongoing global pandemic continues to be on-going and global. While we're in a way better spot than we were at the beginning, I am still taking precautions. I like to think of masks as one more fun accessory to play around with! Bolero makes the most comfortable masks around in my opinion. If you'd like to learn more, you can check out my review here!
Overall…
I am overjoyed by my namesake dress! She's everything I hope to be. Vampy, tough, practical, playful… and a little bit dotty.




#Review #Sam #Dress #Bolero